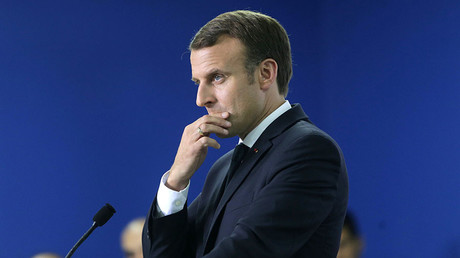 Some 100 activists from Emmanuel Macron's political party are quitting because the movement "offends fundamental principles of democracy" and shows "arrogance and contempt" for its dialogue-seeking members. Read Full Article at RT.com...
By: RT - Daily news - Tuesday, 14 November
Related Posts
Older News
Is DAP influencing Mahathir or the other way around? Free Malaysia Today (Today) - Writer says DAP leader Lim Kit Siang has failed to have any influence on the party's coalition partners, as shown by the lack of support for the recognition of the...
'Democracy in bankers hands': Top French bank tells Le Pen's party to shut accounts RT - Daily news (Yesterday) - Societe Generale, one of France's biggest banks, has reportedly asked the National Front (FN), the far-right anti-immigration eurosceptic party led by Marine Le Pen, to close its accounts after 30...
PDP convention: Bode George asks Makarfi to resign The Punch (Yesterday) - Olusola Fabiyi, Abuja Members of the National Caretaker Committee of the Peoples Democratic Party led by Senator Ahmed Makarfi had an emergency meeting in Abuja on Tuesday, The PUNCH learnt....
French MPs back Macron's cost-cutting first budget France 24 (Yesterday) - French lawmakers approved Emmanuel Macron's first annual budget with a thumping majority Tuesday, as the president fends off accusations that his spending plans favour the wealthiest.France's National Assembly backed the...
Macron Takes Europe's Center Stage While Merkel Falters U.S. News (Yesterday) - French President Emmanuel Macron looks like the last, best hope to salvage a unified Europe, as Britain drifts away and Germany bogs down....
France's Macron Tells Iran, Israel Leaders of Need to Preserve Lebanon's Stability U.S. News (Yesterday) - PARIS (Reuters) - French President Emmanuel Macron told the leaders of Iran and Israel in separate telephone calls that it was vital to keep......
Macron scores diplomatic coup on Lebanon but balancing act under test Reuters (Yesterday) - PARIS (Reuters) - President Emmanuel Macron's initiative in bringing Lebanon's Saad al-Hariri to Paris puts France at the center of a power struggle between Sunni Saudi Arabia and Shi'ite Iran...
Is Cambodia an autocratic state now? Deutsche Welle (Yesterday) - The recent dissolution of Cambodia's main opposition party has cast a dark shadow over the country's political future, with critics saying it dealt a death blow to democracy there. Ate...
State of the Congress The Hindu (2 days ago) - The Congress Working Committee may be planning to induce democracy within its party in the run-up to the elevation of Congress vice-president Rahul Gandhi. The party leadership has shown full...
Could French 'hard-right alliance' destroy Macron? Le Pen makes shock offer to Republicans Express UK (2 days ago) - MARINE Le Pen said France's two leading right-wing parties, Front National and The Republicans, should form a strategic political alliance to counter centrist president Emmanuel Macron's radical reform agenda...