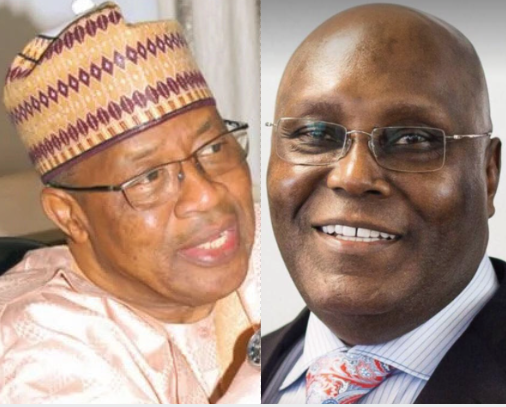 Journalists and supporters of former Vice-President Atiku Abubakar were, yesterday, shocked after the former vice-president came out from a meeting with former President Ibrahim Babangida with a long face reflective of a red card shown to his 2019 presidential aspiration.

The post 2019 Presidency: Angry Atiku shuns press, others after talks with IBB appeared first on Vanguard News....
By: Vanguard - Thursday, 7 December
Related Posts
Older News
Strike: NECONDE shuns DSS, as PENGASSAN insists on strike Vanguard (Today) - The Petroleum and Natural Gas Senior Staff Association of Nigeria's, yesterday, insisted that it is going on with the planned strike action today, as its meeting with the Federal Government...
2019: Mbaka blows hot on link with Atiku The Sun News (Yesterday) - …Says God's wrath'll be upon those using his name for political gains From Chidi Nnadi, Enugu The Spiritual Director of Adoration ministry Enugu, Nigeria, Rev Fr Ejike Mbaka, at the...
Ex-Ohanaeze president rules out Igbo presidency in 2019 The Punch (Yesterday) - Tony Okafor, Awka A former president of the Ohanaeze Ndigbo, Dr Dozie Ikedife, on Sunday advised Igbo politicians planning to contest the presidency in 2019 to perish the thought. Ikedife's...
Atiku calls for enabling environment for job creation Vanguard (Yesterday) - Former Vice President Atiku Abubakar has advised governments at all levels to create the enabling environment that would attract and sustain investments that would create jobs for the army of...
Job Creation: Atiku, Malaysian Firm Establish Eatery Franchise Leadership Newspapers (2 days ago) - By Chibuzo Ukaibe, Abuja – As part of measures to create jobs across the country, former Vice President, Atiku Abubakar, has sealed a deal with a Malaysian firm for the...
We can't talk about Buhari, Atiku travel ban – US The Punch (2 days ago) - BAYO AKINLOYE The United States Government has explained why it will not deny or confirm an allegation by a former vice president,  Atiku Abubakar,  that President Muhammadu Buhari was barred...
Atiku opens 'Chicken Cottage' outlet in Abuja The Punch (2 days ago) - Former Vice President, Alhaji Atiku Abubakar, has spoken of plans  to develop Chicken Cottage Nigeria as a regional hub for all operations in Sub-Saharan Africa. He said this  while opening...
I'll get Nigeria to work again – Atiku Vanguard (2 days ago) - Former Vice President, Atiku Abubakar has pledged his readiness to get Nigeria to work again through the provision of gainful employment for her teeming youths across the country.The post I'll...
UK chancellor reassures business about Brexit - Financial Times Google News U.K. (2 days ago) - Financial TimesUK chancellor reassures business about BrexitFinancial TimesPhilip Hammond has told business that there will be no cliff edge when the UK leaves the EU in 2019. Speaking in Beijing...
Disappointment as Germany shuns U.S, refuses to recognise Jerusalem as Israeli's capital Vanguard (3 days ago) - The Israeli ambassador to Germany has expressed his country's disappointment that Berlin does not want to follow the US example and recognize Jerusalem as Israel's capital.The post Disappointment as Germany...