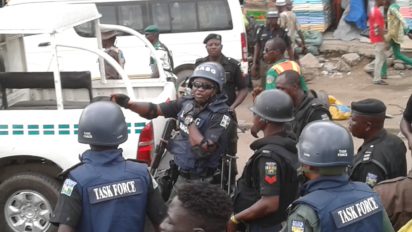 Akure—A 19-year-old secondary school leaver, Chinyere Ebere, has been stabbed to death in Akure, the Ondo State capital, by 25-year-old Saliu Oladayo for allegedly refusing his love advances.

The post 25-yr-old man stabs secondary school leaver to death for refusing love advances appeared first on Vanguard News....
By: Vanguard - Thursday, 17 May
Related Posts
In the last 2 hours
Igbajo Polytechnic Denies Student Death Osun Defender (Today) - By Adegbola Babalola The management of Igbajo Polytechnic has denounced rumour that its students were still in police detention after the protest that occurred in the school during the examination...
Older News
Police Force, NGO Educates 500 School Children On Security, Conflict Resolution Leadership Newspapers (Today) - LEADERSHIPThe Nigeria Police Force has stated that child theft is on the increase and warned parents to be more security conscious in view of this menace and also educated children...
Why You Shouldn't Care If Your State Doesn't Comply With The New 529 Rules Forbes (Today) - Too often, when we hear the words "penalty" or "taxable," we dismiss a planning idea. However, if you have been able to save at the appropriate level and can afford...
Lagos printer abducts, rapes pupil he met on Facebook The Punch (Yesterday) - Samson Folarin A screen printer, Oluwaseun Badejo, has been arrested by operatives of the Lagos State Police Command for allegedly abducting and raping a 15-year-old girl, identified as Lateefat, in...
Orderly voting process at Queen's College NationNews Barbados (Yesterday) - Mid-morning voters in the St James South constituency found it an easier task to cast their ballots at Queen's College Secondary School, as the scenes of long lines that were...
Signing Day not limited to sports stars at Umatilla High Washington Times (Yesterday) - PENDLETON, Ore. (AP) - Amid cheers and fanfare often reserved for student athletes, all Umatilla High School seniors who are pursuing post-secondary education signed letters of intent during the school's...
WASSCE Candidates Thrown Behind Bars Following Impersonation Incident Modern Ghana (Yesterday) - A final-year student of ICODESH School in Accra, who wrote the 2018 West African Secondary School Certificate Examination (WASSCE) and a former student have been sentenced to a total of...
Name change for consolidated Meyers Creek Secondary School Global News (Yesterday) - Meyers Creek Secondary School could get name change after Belleville founder John Walden Meyers found to be slave owner....
Surrey to hold public meeting on pot legalization for parents on Thursday Global News (2 days ago) - The meeting is set for Clayton Heights Secondary School on Thursday night, but pre-registration is required....
Gwyneth Paltrow reveals Brad Pitt's threat to Harvey Weinstein after hotel incident Entertainment Weekly (2 days ago) - Gwyneth Paltrow's ex-boyfriend Brad Pitt is "the best" in her eyes for defending her against Harvey Weinstein.The 45-year-old Shakespeare in Love Oscar winner appeared on The Howard Stern Show for an episode...