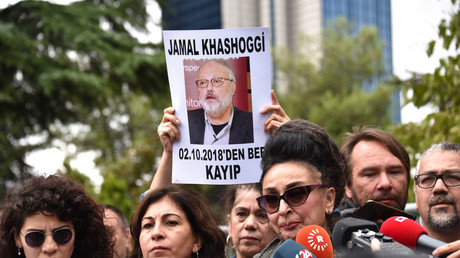 London's National History Museum has been blasted as "absolutely disgusting" after it emerged that it's due to host an event for the Saudi embassy despite Riyadh being accused of abducting and murdering a journalist in Turkey. Read Full Article at RT.com...
By: RT - Daily news - Thursday, 11 October
Related Posts
In the last 2 hours
Saudi Crown Prince phoned Jamal Khashoggi's son to offer condolences Daily Mail Online (Yesterday) - Prince Mohammed and King Salman called Saleh Khashoggi on Sunday night. The Saudi government released an official image to share the news afterwards....
Saudi King, Crown Prince express condolences to Khashoggi's family Khaleej Times (Yesterday) - Jamal Khashoggi's son expressed his sincere thanks to the rulers for their condolences....
Will reveal 'naked truth' behind Jamal Khashoggi's death, vows Turkey as Saudi Arabia calls killing a 'tremendous mistake' Firstpost (Yesterday) - Turkish President Recep Tayyip Erdogan on Sunday vowed to reveal within days the "naked truth" over the death of journalist Jamal Khashoggi, as Riyadh said it did not know the...
Older News
Donald Trump will 'ACCEPT' Saudi denial over Jamal Khashoggi DEATH, leading Senator claims Express UK (Yesterday) - PRESIDENT Donald Trump will accept the Saudi Arabian government's denial that it orchestrated the death of dissident journalist Jamal Khashoggi according to Congressman Adam Schiff, a senior member of the...
Inside the Saudis' Washington influence machine: How the kingdom gained power through fierce lobbying and charm offensives Washington Post (Yesterday) - The strength of the Saudi operation is now being tested amid a global condemnation of the killing of Washington Post contributing columnist Jamal Khashoggi....
Saudi Crown Prince reportedly 'shocked' by Jamal Khashoggi backlash Daily Mail Online (Yesterday) - Royal sources claim the prince was surprised by the uproar surrounding Jamal Khashoggi's disappearance and death, even calling Jared Kushner to ask 'why the outrage'....
Jamal Khashoggi death: give us the facts, western countries tell Saudis The Guardian (Yesterday) - UK, France and Germany urge Riyadh to urgently clarify what happened to journalistThe UK, France and Germany have pressed Saudi Arabia to provide facts for its widely derided account of...
Saudi attempts to distance crown prince from Jamal Khashoggi killing haven't quieted uproar Chicago Tribune (Yesterday) - Saudi Arabia's foreign minister denied on Sunday that the nation's powerful young crown prince ordered Jamal Khashoggi's killing, but the attempt to distance Mohammed bin Salman from the journalist's demise...
'They're copying PUTIN' - Boris Johnson LAMBASTS Saudi Arabia over Jamal Khashoggi death Express UK (Yesterday) - FORMER Foreign Secretary Boris Johnson has launched a ferocious assault on the Saudi Arabian government over the death of dissident journalist Jamal Khashoggi, describing it as "entirely deliberate" and accusing...
Jamal Khashoggi death: Saudi Arabia says journalist was murdered - BBC News Google News U.S. (Yesterday) - BBC NewsJamal Khashoggi death: Saudi Arabia says journalist was murderedBBC NewsSaudi Arabia says that journalist Jamal Khashoggi was murdered, blaming a "rogue operation" for a killing that has sparked an...