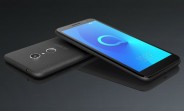 The alcatel 1X was unveiled at the MWC as an 18:9 phone for the masses. Today, the company announced its plans to start selling it in India soon. Unfortunately, it didn't go into more detail, didn't even confirm the price.

The 1X runs Android 8.1 Oreo (Go edition) to make the best of its modest hardware. Its 5.3" screen has 480 x 960 pixel resolution. The brains is a MediaTek MT6739 chipset (octa-core A53) with 1GB of RAM, 16GB storage and a microSD card. As we said, modest specs.

There is a...
By: GSMArena.com - Tuesday, 13 March
Related Posts
New In Last Half Hour
Sony Xperia L2 gets another update GSMArena.com (Today) - Just recently, we told you about an Xperia L2 update that bumped the version from 49.0.A.2.62 to 49.0.A.3.72. Now, a new update has started hitting the device.Sony Xperia L2It's basically...
Older News
World Cup referees will use Hublot's new Wear OS watch to check for goals The Verge (Yesterday) - Hublot is the official timekeeping sponsor of the 2018 FIFA World Cup, so, of course, it has developed a special edition watch for the football tournament.The Big Bang Referee 2018...
How to set up Android Auto in any car PCWorld Business (Yesterday) - Android Auto will work in any car, even an older car. All you need is the right accessories—and a smartphone running Android 5.0 (Lollipop) or higher (Android 6.0 is better),...
Oreo starts rolling out to Sprint LG V30 GSMArena.com (Yesterday) - Sprint has started pushing out a new update to LG V30 units on its network. Weighing in at around 1.7GB, it's a major update that brings along Android Oreo.There's currently...
iPhone X's Face ID is years ahead of Android competition - CNET CNET (2 days ago) - A report estimates that Android phones won't get comparable 3D face id tech until 2019....
Lenovo releases three new phones in China after more than a year of silence The Verge (2 days ago) - After over a year of not releasing any new phones, Lenovo has launched three phones in China today. There's the main flagship S5 model, and two lower-end budget phones: the...
There's Something Strange About The Price Of 'PUBG Mobile' On iOS And Android Forbes (2 days ago) - 'PUBG Mobile' is out on iOS and Android, beating 'Fortnite' to wide release on mobile platforms. There's something weird about it being free-to-play, however....
Wayfair launches augmented reality feature for Android Mashable (2 days ago) - Wayfair – the popular online furniture retailer – has launched an augmented reality feature for Android devices, the company announced Tuesday. The home-good company's "View in Room 3D" function, part of Wayfair's...
More than 60 new apps support Android's AR platform Engadget (2 days ago) - Now that Android's ARCore platform is a practical reality, augmented reality apps are coming out of the woodwork. Google has announced that over 60 ARCore-capable apps are launching on the...
How to transfer your data to new Android phone The Punch (3 days ago) - Setting up a new Android phone can be a pain. Although Google has some automated features, it does not restore everything. When it comes to transferring certain types of data...