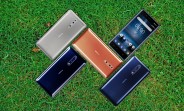 Counterpoint has revised its numbers and now says HMD sold 4.4 million smartphones in Q4 of last year. Neil Shah, an analysts at the company, says the 1% market share puts it just outside the Top 10 - Nokia is in 11th place.

To put that in perspective, more Nokia-branded phones were sold in the last three months of 2017 than the following companies (individually):

HTC

Sony

Google

Alcatel

Lenovo

OnePlus

Gionee

Meizu

Coolpad

Asus

The brand is seeing a resurgence in some markets. Nokia smartphones were #3 in the UK for the quarter and in the Top 5 in......
By: GSMArena.com - Monday, 12 February
Related Posts
In the last 2 hours
Google Lens expands to all Android and iOS devices through Google Photos, flagships get it in Assistant too GSMArena.com (Today) - Google Lens became available for the Pixels last year, and it's now following in the footsteps of the Google Assistant - namely, a period of exclusivity for the company's own...
Older News
Get to know Google Pay video - CNET CNET (Today) - Google has a new way to pay with your phone, called Google Pay. It replaces Android Pay and Google Wallet....
Google Assistant goes global this year, becomes multilingual, integrates deeper with your phone and carrier GSMArena.com (Today) - The fact that Google has planned a big expansion for its Assistant in 2018 was first revealed last week. Back then the number of supported languages was said to be...
Sony may launch three new devices at the MWC - two XZ2 phones and a surprise GSMArena.com (Today) - The rumor mill has been pretty clear that we'll see the Sony Xperia XZ2 and Xperia XZ2 Compact at the MWC stage. But it seems that there will be a...
Android Go phones will be available soon Engadget (Today) - Android Oreo had quite the interesting feature lurking in its software: Go Edition, which was designed for smartphones with 1 GB of RAM or less. Today, the company announced that...
Concerned about gun posts, dad turns in son's phones. Cops find something worse. Miami Herald (Today) - After the Parkland school shooting that horrified the nation, a Miami father told police he was worried about his son's disturbing posts with guns on Instagram and Snapchat. So he...
Google announces big changes to Google Assistant Mashable (Today) - Google Assistant is about to get a lot smarter. Google has announced several new updates to its voice assistant which will roll out throughout this year. SEE ALSO: Chromebooks may soon have...
Google publicly launches ARCore 1.0 on 13 phones, will begin expanding Lens availability TechCrunch (Today) -  After playing around in the experimental phase, Google is bringing its ARCore augmented reality platform to its 1.0 release with availability on over 100 million Android devices. If you have...
Heads-up: Google's official AR apps are coming to these phones - CNET CNET (Today) - Play Ghostbusters in the real world -- or anything else an app developer dreams up....
Google makes its AR search tool Lens available for your phone, too - CNET CNET (Today) - Google Lens moves beyond Pixel and into phones from Samsung, LG and more -- making it easy to learn more about your world just by pointing your phone's camera....