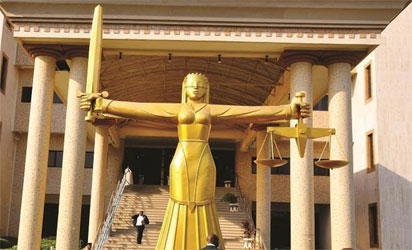 The Federal High Court in Abuja, on Friday, reversed itself by vacating its judgment that declared Dr. Obiora Okonkwo of the Peoples Democratic Party, PDP, as the validly elected representative for Anambra Central Senatorial District.

The post Anambra Central Senatorial Seat: FHC makes U-turn, okays re-run election appeared first on Vanguard News....
By: Vanguard - Friday, 12 January
Related Posts
In the last 2 hours
Democrat wins special election for state House seat Miami Herald (Today) - A Democrat has won a special election to fill the unexpired term of a Pennsylvania House member who stepped down after pleading guilty to charges related to an illegal gambling...
Older News
Lassa fever: Anambra bans drinking of garri The Punch (Today) - Tony Okafor and Gbenga Odogun The Anambra State Government has prohibited the drinking of garri in the state as a measure to prevent the contraction of Lassa fever. The state...
Judge Removes 1 of 3 Democrats Seeking Congress Seat U.S. News (Today) - A judge has removed a Democratic candidate from the special primary election ballot for Arizona's 8th Congressional District....
Lassa fever: Anambra Government cautions residents on hygiene Vanguard (Today) - Anambra Government has advised residents to be conscious of their environments and hygiene as part of efforts to curb the resurgence of Lassa fever in the state.The post Lassa fever:...
Lassa fever: Stop drinking raw garri, Anambra Commissioner warns Vanguard (Today) - OLLOWING the reported cases of Lassa fever in some parts of the country, the Anambra State Commissioner for Health, Dr. Joe Akabuike has warned against the habit of drinking raw...
NHS okays hospitals and doctors storing patient data on public cloud servers Boing Boing BBS (Today) - @doctorow wrote:Originally published at: https://boingboing.net/2018/01/23/hospitals-are-computers.html…Posts: 1Participants: 1Read full topic...
NPP Aspirant Targets Somanya Seat Modern Ghana (Today) - Dr. Gabriel Odoh Apotey, the Financial Secretary of the ruling New Patriotic Party (NPP) in the Yilo ndash;Krobo Constituency, says his main agenda for contesting for the chairmanship post is...
Send Army after killer-herdsmen, Anambra monarch tasks Buhari Vanguard (Today) - ONITSHA—WORRIED by the incessant killings of farmers in various parts of the country, by some Fulani herdsmen, the traditional ruler of Obosi community in Idemili North Local Government Area of...
Democrat special election wins signal Republican midterm trouble Washington Times (Yesterday) - For two decades, local Democrats lobbied Wolfeboro's Edith DesMarais unsuccessfully to run for office in the Republican stronghold in central New Hampshire. Not interested, the longtime, well-known resident insisted. But,...
2 Women File to Run for Congressional Seat in Mississippi U.S. News (Yesterday) - A state lawmaker and a business executive are the latest to enter the Republican primary for open congressional seat in Mississippi....