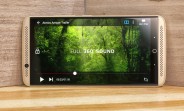 ZTE's Axon 7 has been pretty successful in the US, at least as far as any handset sold unlocked can claim to be. To appease owners who've been asking for an Oreo update for a while, the Chinese company announced back in December that the update would roll out this April. Not only that, but ZTE is giving up on its MiFavor UI in favor of something called Stock+.

And now you can beta test that purer interpretation of the OS if you want. ZTE is inviting owners of the A2017U...
By: GSMArena.com - Wednesday, 14 February
Related Posts
Older News
Samsung Galaxy S8 Oreo roll out expands, Note8 gets February patch GSMArena.com (Today) - As you might already know, Samsung recently resumed the Galaxy S8 Oreo update roll out after fixing a critical issue. Last we heard, units in Germany were getting this new...
Android P won't get a 'dark mode' after all Engadget (Today) - There was a short-lived hysteria Friday when it seemed like Google would grant a longstanding request to add built-in "dark mode" theming on stock Android, similar to the tweak OnePlus...
Android Circuit: Final Galaxy S9 Features Leak, Samsung Lowers S9 Price, Available Early March Forbes (Yesterday) - This week's Android Circuit includes pretty much everything about the Galaxy S9 launch, the S9's lower price and launch dates, what to expect from Brand Nokia at MWC, a review...
Nope, Android isn't getting a system-wide dark mode (at least not yet) TechCrunch (Yesterday) -  According to a number of reports today, the next version of Android would include a "dark mode" – something that's been a long-time feature request from those who prefer the...
Android users may get an official dark mode in a future update The Verge (Yesterday) - Keen Android users who've been following a somewhat obscure Google Issue Tracker thread from November of last year are celebrating a new development: the thread, in which a user asked...
5 Overlooked Smart Beta Dividend ETFs Worth Buying Now InvestorPlace (Yesterday) - InvestorPlace - Stock Market News, Stock Advice & Trading TipsWhile the dividend space has been crowded, we have highlighted five smart beta dividend ETFs for investors seeking good yields as...
Android Go phones will be available soon Engadget (Yesterday) - Android Oreo had quite the interesting feature lurking in its software: Go Edition, which was designed for smartphones with 1 GB of RAM or less. Today, the company announced that...
Third-party businesses can now send multimedia messages using RCS to Android users Firstpost (Yesterday) - Google is working with 43 carriers and device makers to ensure that the native messaging experience on Android is improved.The post Third-party businesses can now send multimedia messages using RCS...
Google is bringing ARCore out of beta and launching Lens search on more phones The Verge (Yesterday) - Google is bringing its augmented reality system ARCore out of beta with new features, and it's making its Lens visual search tool part of Google Photos on all phones. Today,...
Android's official augmented reality toolkit is available to the public Engadget (Yesterday) - Google's take on a mobile augmented reality framework is no longer limited to a modestly-sized preview. It just released ARCore 1.0, letting anyone publish Android apps that take advantage of...