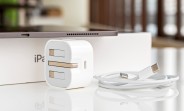 Apple has started selling its 18W USB-C Power Adapter on the Apple Store. This is the same charger that comes bundled with the new 2018 iPad Pro models.

The 18W USB-C Power Adapter is priced at $29 and is the cheapest way to get fast charging on your iPhone or even older iPad that support fast charging. You can also obviously use it with other devices, although they may not necessarily use it to its full potential.

Apple 18W USB-C Power Adapter

Previously, if you wanted an official Apple fast charger for your...
By: GSMArena.com - Thursday, 6 December
Related Posts
Older News
Hitachi to announce purchase of $7 bn ABB's power grid business today; pact to be Japanese conglomerate's largest-ever acquisition Firstpost (Today) - Hitachi Ltd and ABB will announce on Monday a plan for the Japanese conglomerate to buy the Swiss engineering group's power grid business, paying up to $7 billion for an...
Hitachi to Announce Purchase of ABB's Power Grid Business Monday: Nikkei U.S. News (Yesterday) - TOKYO (Reuters) - Hitachi Ltd and ABB will announce on Monday a plan for the Japanese conglomerate to buy the Swiss engineering......
Apple announces problem with iPhone X models Khaleej Times (2 days ago) - This program covers affected iPhone X models for three years from the date of purchase....
Apple to roll out new Snoopy, Peanuts cartoon series Free Malaysia Today (3 days ago) - The agreement between Apple and DHX Media is another example of the Apple brand's ambition....
Apple Music is now playing on Amazon Echo speakers with Alexa GSMArena.com (3 days ago) - At the end of November Amazon announced that Apple Music would soon be supported by its Echo smart speakers with the Alexa virtual assistant built-in. Today the integration has finally...
Apple Loop: Poor iPhone Sales Scare Apple, Shock Upgrade For Classic iPhone, Awkward iOS 12 Problems Forbes (3 days ago) - This week's Apple Loop includes new screen technology for the iPhone, disappointing iPhone XR sales, the return of the iPhone X, iOS 12's 4G data problem, the latest Apple vs...
Friday Apple Rumors: Apple Signs Deal for Exclusive 'Peanuts' Content InvestorPlace (3 days ago) - InvestorPlace - Stock Market News, Stock Advice & Trading TipsFriday's Apple Rumors include support for Apple Music coming to Amazon's Alexa, talk of poor demand for the iPhone XR and...
Apple Music support hits Amazon Echo speakers The Verge (3 days ago) - Apple Music support for Amazon Echo devices has arrived, a few days earlier than it was scheduled to hit on December 17th. It's rolling out now on the Alexa app...
One of the most tapped-in Apple analysts just slashed his iPhone XR sales estimates — again (AAPL) Business Insider (3 days ago) - A widely followed Apple analyst, known for accuracy, cut his sales estimates for the iPhone XR on Friday, sending shares of Apple sliding....
Remember Apple Music Connect? Well, Apple's killing it. Mashable (3 days ago) - For Apple, music and social just don't mix. According to 9to5Mac, the company is quietly killing the social component of its Apple Music service, Connect. SEE ALSO: Surprise! Apple Music is coming...