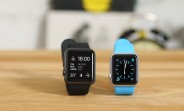 For the third quarter of 2017, Apple was once again the leader of the wearable market. The company making the Apple Watch found itself in that position in Q1 as well, but in Q2 it was overtaken by both Xiaomi and Fitbit.

These are still the names in the top 3 - for Q3 2017 Apple leads, followed by Xiaomi and Fitbit. Apple is estimated to have shipped 3.9 million wearables between July and September. Xiaomi moved 3.6 million units during the same time frame, while Fitbit managed 3.5 million sales.

This...
By: GSMArena.com - Tuesday, 14 November
Related Posts
Older News
Apple Black Friday One-Day Event Revealed: Gift Cards With iPhone, iPad, Mac and Apple Watch Forbes (Today) - Apple has just announced its one-day shopping event, and although there aren't discounts as such, it's a bonanza if you're happy with Apple Store gift cards…...
Week In Wearables: Black Friday Bargains, Misfit Command, Samsung Battery Boost, Apple Holiday Ad Forbes (Today) - Black Friday has yielded more wearable bargains than expected, Misfit is about to ship its latest, and the holiday season must be starting because Apple's launched a commercial starring AirPods....
Xiaomi Mi A1 gets a massive OTA firmware update; features November security patch and more Firstpost (Today) - New firmware update for the Xiaomi Mi A1, brings stability fixes and performance optimisations apart from the November security patch from Google.The post Xiaomi Mi A1 gets a massive OTA...
Exceptional Sales Growth Makes Apple (AAPL) a Strong Buy InvestorPlace (Today) - InvestorPlace - Stock Market News, Stock Advice & Trading TipsApple Inc (NASDAQ:AAPL) is a $872.2 billion in market value component of the Technology Hardware Storage & Peripherals GICS industry group...
Black Ceramic and Starck Edition Mi Mix 2 go on sale on Nov 28 GSMArena.com (Today) - Xiaomi will start selling the Black Ceramic Edition and the Starck Edition Mi Mix 2 on November 28 with China being the first market to get it. Until now only...
Xiaomi announces launch of 'Desh ka smartphone' in India on 30 November; could be the Redmi Note 5 Firstpost (Today) - Xiaomi vice president Manu Kumar Jain had earlier taken to his Twitter account to tease the possible launch of the smartphone.The post Xiaomi announces launch of 'Desh ka smartphone' in...
Apple tops UK smartphone market in Q3, Samsung close second GSMArena.com (Today) - According to market research firm Counterpoint, Apple is the top smartphone player in the UK. The stats shared by the firm reveal the Cupertino based company had a market share...
Huawei's newest phone is a high-end alternative to Samsung, Apple devices CNBC (Yesterday) - The Mate 10 Pro could be key for Huawei as it looks to break Samsung and Apple's hold in the smartphone market....
New Apple holiday ad aims to prove you can share AirPods Mashable (Yesterday) - Nothing brings two people together like a pair of Apple AirPods.In Apple's latest holiday ad, entitled "Sway," the company shows, perhaps for the first time, how two people might share...
Apple will launch a new iPhone SE in 2018, report says Mashable (Yesterday) - A cheaper version of the iPhone could launch in the next few months.According to a new report from China Economic News Service that cites supply chain sources, Apple plans to...