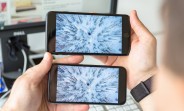 Apple will launch at least one iPhone with LCD in 2018, industry insiders in Japan reported. It will be one of three new flagship phones, the other two allegedly coming with OLED screens.

The inside information comes as a blessing to Sharp and Japan Display, two of the main LCD manufacturers in the market. Their shares went down massively after the iPhone X came out with an OLED screen, supplied by Samsung.

Apple iPhone 8 with an LCD

The LCD iPhone will have 6.1" screen and metal case, including the back panel. On...
By: GSMArena.com - Thursday, 7 December
Related Posts
Older News
Why does my iPhone go slowly? Tricks to make your Apple device run faster Metro (Today) - It might not be a problem with the phone......
Apple says increase in customs duty to 15 percent is a statutory industry-wise hike Firstpost (Yesterday) - Currently, Apple is assembling the iPhone SE model at its Bengaluru facility with Wistron Corporation, its Taiwanese manufacturing partner.The post Apple says increase in customs duty to 15 percent is...
Apple enthusiasts need this dock that will charge all of the things Mashable (Yesterday) - Just to let you know, if you buy something featured here, Mashable might earn an affiliate commission.These days, everyone and their mother has an Apple Watch. If you don't have...
Apple has a history of choosing cash over startups TechCrunch (Yesterday) -  Apple has more cash than any other tech company on the planet. Yet, that hasn't translated into spending on acquisitions. Over the past five years, Apple has spent the least...
All the features I'm still getting used to on the iPhone X The Verge (Yesterday) - Since the week before Thanksgiving, I've been using the iPhone X. Prior to that, I was using the iPhone 8 Plus, which Apple loaned me. During the busy fall reviews...
Five Things Nobody Has Told You About The Apple iMac Forbes (Yesterday) - Apple has just announced the iMac Pro, a sleek, gorgeous version of the iMac, on sale now. So, here are five things you never knew about Apple's regular iMac computers....
Apple iPhone X Improves Availability as iMac Pro Launches Fortune (Yesterday) - And all the other Apple news and rumors this week....
Samsung Galaxy A8 (2018) and A8+ (2018) star in a new hands-on video GSMArena.com (Yesterday) - Samsung's 2018 Galaxy A, premium, mid-range lineup has been a constant highlight in the rumor mill these past few weeks. After catching a glimpse of the Galaxy A8+ (2018) and...
You'll never get lost in an airport ever again with Apple Maps' indoor mapping Mashable (2 days ago) - Every editorial product is independently selected by Mashable journalists. If you buy something featured, we may earn an affiliate commission which helps support our journalism.Raise your hand if you remember...
Friday Apple Rumors: First Korean Apple Store May Open on Dec. 30 InvestorPlace (2 days ago) - InvestorPlace - Stock Market News, Stock Advice & Trading TipsFriday's Apple Rumors include a patent for a new way to use Siri, another smart speaker rival showing up next year...