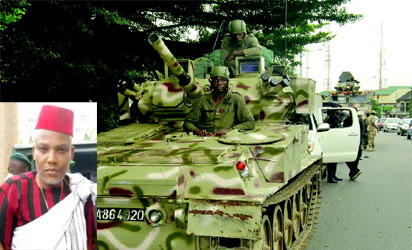 At the height of the IPOB madness on Nnamdi Kanu, the IPOB guys were Kanu/Biafran fundamentalists, insulting anyone that had a contrary opinion on the IPOB agitation. Even those who ordinarily were not conceptually averse to the injustices against South Easterners but decried the methodology of Kanu, were attacked and insulted by the IPOB fundamentalists.

The post Between Buharists and IPOB supporters appeared first on Vanguard News....
By: Vanguard - Friday, 12 January
Related Posts
New In Last Hour
Brazil's Lula defiant as supporters rally ahead of ruling France 24 (Today) - Ex-president Luiz Inacio Lula da Silva told thousands of supporters Tuesday that he would continue his political fight regardless of the outcome of his appeal against a corruption conviction....
Older News
FG collaborating with judges to frustrate our cases—IPOB Vanguard (Yesterday) - THE  Indigenous People of  Biafra, IPOB, has accused the Federal Government  of conniving with the judges handling its cases to frustrate the body, through deliberate delay and refusal in approving...
IPOB restates call for referendum The Sun News (Yesterday) - Geoffrey Anyanwu, Awka The Indigenous People of Biafra (IPOB) worldwide, on Sunday, said that happenings in Nigeria have vindicated its position that the Nigerian union was unsustainable. IPOB, which expressed...
IPOB not terrorist group—Ohanaeze youths Vanguard (2 days ago) - OHANAEZE Ndigbo Youth Council, OYC, has rejected the ruling of the Abuja High Court, affirming the Indigenous People of Biafra, IPOB, as a terrorist group, insisting that IPOB is not...
IPOB honours those killed during pro-Trump's inauguration rally in P/Harcourt Vanguard (2 days ago) - THE Indigenous People of Biafra, IPOB, yesterday, honoured its members, who were killed by security operatives in Port Harcourt, one year ago, during a rally in support of President Donald...
Government Needs Your Support To Succeed--Akufo-Addo To NPP Supporters Modern Ghana (2 days ago) - President Akufo-Addo has charged supporters of the governing New Patriotic Party , to avoid all forms of disagreements and conflicts which may affect the unity of the party. He asked...
MASSOB, UPP flay court's declaration of IPOB as terrorist group Vanguard (3 days ago) - MORE reactions have continued to trail the  Abuja High  Court verdict that the Indigenous People of Biafra, IPOB, is a terrorist organisation.The post MASSOB, UPP flay court's declaration of IPOB...
Terrorist tag: IPOB alleges FG's plot to frustrate appeal The Punch (3 days ago) - Tony Okafor The Indigenous People of Biafra on Saturday alleged that its move to appeal an Abuja Federal High Court judgment was being frustrated by the Federal Government. It also...