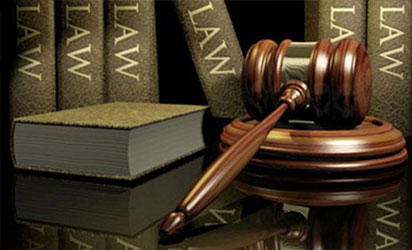 Lagos—A businessman, Francis Esinusu, who allegedly attempted to throw a Police officer on duty into the Lagoon,  yesterday, appeared before an Igbosere Magistrate's Court in Lagos.

The post Bizman allegedly attempts to throw policeman into Lagoon appeared first on Vanguard News....
By: Vanguard - Thursday, 7 December
Related Posts
Older News
Video: UAE policeman pushes car stranded in water Khaleej Times (Yesterday) - A video shared on Instagram shows a policeman in uniform helping a van stuck in water...
Mutiny star Chris Jacks guilty of threatening to throw ACID in ex-girlfriend's face www.dailystar.co.uk (2 days ago) - ONE of the stars of reality show Mutiny threatened to throw acid in his ex-girlfriend's face....
Policeman Robber Caged Modern Ghana (2 days ago) - A police corporal and his three accomplices, who allegedly robbed a supermarket at Nungua in Accra, have been remanded into custody by an Accra Circuit Court, presided over by Aboagye...
Airlines Apologizes to Mom Forced to Throw Away Breast Milk U.S. News (3 days ago) - A Mesa mother says she had to throw out breast milk she had packed for a flight after American Airlines tried to charge her $150 to carry it on board....
One dead, policeman missing as police disperse illegal miners in Taraba Vanguard (3 days ago) - The Police Command in Taraba says at least one person has died and six others injured during a clash between illegal miners and policemen in Mayo-Sina, near Nguroje, Sardauna Local...
Sea robbers, cult members kill two, injure policeman in Bayelsa The Punch (4 days ago) - Simon Utebor, Yenagoa Hoodlums, suspected to be sea robbers and cult members, have killed two persons and injured a policeman in Bayelsa State. The incident occurred on Wednesday in Ekeki,...