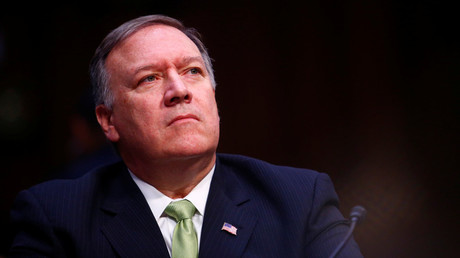 Newly-installed Secretary of State Mike Pompeo doesn't have a huge amount of experience as a diplomat so what can we expect from the former Kansas congressman now that he is heading US foreign policy? Read Full Article at RT.com...
By: RT - Daily news - 3 days ago
Related Posts
Older News
US seeking 'supplemental' Iran deal with European powers France 24 (Today) - The US and European powers have had "very good" discussions towards agreeing a "supplemental" accord beyond the Iran nuclear deal by May 12, a senior US official said Friday.President Donald...
N. Korean Top Diplomat's Sweden Talks Could Pave Way for Trump-Kim Summit VOA (Today) - North Korea's Foreign Minister Ri Yong Ho and Swedish Prime Minister Stefan Lofven met briefly in Stockholm Friday during a closely watched visit that many believe is related to expected...
Saudi crown prince says Iran's supreme leader is 'very much like Hitler' National Post (Today) - The powerful crown prince has said that his country would acquire a nuclear bomb 'as soon as possible' if Iran developed nuclear weapons...
'If Iran makes nuclear bomb, so will we' – Saudi Arabia's next leader RT - Daily news (Today) - Saudi Arabia will enter the nuclear arms race if Iran is ever successful in developing a weapon of mass destruction, according to Crown Prince Mohammed bin Salman. He also branded...
Pompeo may be even more hawkish on Iran than Trump, a bad sign for the Iran nuclear deal Los Angeles Times (Today) - President Trump's nomination of Mike Pompeo as secretary of State probably augurs the end of the 2015 accord that has blocked Iran from building nuclear weapons, an agreement praised by...
Saudi to pursue nuclear weapons if Iran does Prothom Alo (Today) - Saudi Crown Prince Mohammed bin Salman has said if Iran develops a nuclear weapon, Riyadh will follow suit-just days before he arrives in Washington for talks with US president Donald...
Change in Secretary of State Restarts US Diplomacy in Disputed South China Sea VOA (Today) - Rex Tillerson's ouster as U.S. Secretary of State this month will reset Washington's foreign policy on the widely contested South China Sea, analysts say.The former oil company CEO, fired by...
Syria crisis: Iran, Russia and Turkey hold talks in Astana; situation in Eastern Ghouta likely on agenda Firstpost (Today) - The foreign ministers of Iran, Russia, and Turkey were locked in talks on Syria in Kazakhstan Friday, almost a month after the Moscow and Tehran-backed regime began pounding an opposition...
Edward Snowden Takes On Liz Cheney Over Torture Links To Trump's Pick For CIA The Huffington Post (Yesterday) - "To defend torture is to attack the Constitution."...
Youth Unemployment, A Tickling Time Bomb – Aremu Leadership Newspapers (Yesterday) - Labour activist and General-Secretary, National Union of Garments and Textile Workers of Nigeria, Comrade Issa Aremu, has described the increasing rate of youth unemployment in the country as a tickling...