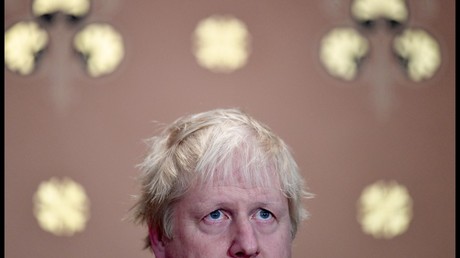 UK Foreign Secretary Boris Johnson attacked British foreign policy critics for playing "into a jihadi narrative." Politicians like Jeremy Corbyn, and at one time Johnson himself, have argued that current and past British foreign policy drives extremism. Read Full Article at RT.com...
By: RT - Daily news - Thursday, 7 December
Related Posts
New In Last Half Hour
Trump unveils 'America First' foreign policy, blasts past presidents CNN (Today) - President Donald Trump on Monday unveiled in the most concrete terms to date his "America First" foreign policy, blasting the actions of previous administrations on immigration, the Iran nuclear deal...
New In Last 45 Minutes
Donors paid this dog's medical bills at a shelter. Now his ex-owner wants Boris back The Kansas City Star (Today) - When Boris, a 10-year-old chihuaua-terrier mix, was surrendered by his owner to an Iowa shelter Thursday, his future seemed bleak. Boris had a severely broken jaw that veterinarians were not...
In the last 2 hours
Proof That This Was The Most Unique Fashion Meets Music Event In The Middle East Ever Forbes (Today) - There's nothing else like Sole DXB....
Older News
'Better laws for British fish!' PM May says Britain will take back CONTROL of UK waters Express UK (Today) - BREXIT will enable the British Government to establish new fishing "arrangements that work" for the United Kingdom, Prime Minister Theresa May has said....
Brexit transition battle BEGINS: May goes to WAR with EU on agriculture and fishing policy Express UK (Today) - THERESA May's admission that Britain will be leaving the Common Fisheries Policy and the Common Agricultural Policy on March 29, 2019, looks set to spark a major clash between British...
World's smallest Christmas card created by British scientists with too much time on their hands Metro (Today) - Teeny-weeny greetings card is too small to be seen with the naked eye...
Uber lands on BlackBerry Messenger, confusing everyone Engadget (Today) - The next time you whip out BBM, you'll be able to order an Uber from within the app -- which would be handy if anyone still used BBM. Well, it's...
Taxi Driver Arrested Over Murder Of British Embassy Worker Osun Defender (Today) - A taxi driver has recently been arrested over the murder of a British embassy worker in Beirut whose body was found dumped by a motorway. According to reports, the driver...
Russia's Lavrov and Iran's Zarif Discuss Nuclear Issue by Phone: Russia U.S. News (Today) - MOSCOW (Reuters) - Russian Foreign Minister Sergei Lavrov and his Iranian counterpart Mohammad Javad Zarif discussed the Middle East and Iran's......
The British Foreign And Commonwealth Office On The Importance Of Religious Freedom Forbes (Today) - There is an urgent need to put the topic of religious persecution permanently on the UN agenda - not just in conjunction with other issues, but as an issue in...