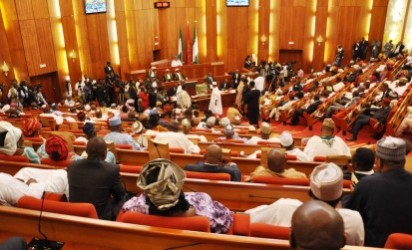 The Senate has passed the 2018 Budget of N9.21 Trillion following the consideration and adoption of the Budget report laid on the floor of the upper legislative chamber on Tuesday.

The post Breaking: Senate passes 2018 Budget of N9.12 trillion appeared first on Vanguard News....
By: Vanguard - Wednesday, 16 May
Related Posts
Older News
NNPC targets full implementation of 2018 budget Vanguard (Today) - The Nigerian National Petroleum Corporation, NNPC, Friday, said it has introduced measures to ensure the full and effective implementation of its 2018 budget.The post NNPC targets full implementation of 2018...
Senate Approves $41.5B State Budget for Upcoming Fiscal Year U.S. News (Today) - The Massachusetts Senate has passed a $41.5 billion state budget for the fiscal year that starts July 1 that invests in education, health care and battling the opioid epidemic....
Y&R Alum Passes Away Soap Opera Digest (Today) - Elizabeth Sung, who played Luan on Y&R from 1994-96, has died. She was 63. In addition to Y&R, Sung appeared in The Joy Luck Club, as well as Memoirs of...
Breaking: Saraki, Adewole, Ngige in closed door meeting over JOHESU strike Vanguard (Today) - After meeting with the leadership of JOHESU yesterday to hear their side of the story, the President of the Senate, Bukola Saraki and the Chairman of the Senate Committee on...
NASS transmits 2018 Budget to Buhari today  The Sun News (Yesterday) - The National Assembly will today transmit the harmonised 2018 Budget to President Muhammadu Buhari for assent.  The Senate President, Bukola Saraki disclosed this to State House Correspondents after breaking his...
2018 budget threatened over N2.7tr arbitration fine against Nigeria The Sun News (Yesterday) - A whopping $8.9 billion (N2.7tr) arbitration fine on Nigerian is threatening wipe off a sizeable chunk of its foreign reserves, derail the 2018 budget and plunge the economy back into...
UC regents approve leaner budget for Janet Napolitano Los Angeles Times (Yesterday) - University of California regents on Thursday unanimously approved a leaner, more transparent budget for President Janet Napolitano, moving to address political criticism over the system's central office operations. The $876.4-million...
Buhari gets 2018 Budget today, says Saraki The Punch (Yesterday) - Olalekan Adetayo, Abuja The President of the Senate, Bukola Saraki, on Thursday, said the National Assembly would transmit the 2018 Appropriation Bill to President Muhammadu Buhari on Friday. Saraki said...
Trump's 2019 Budget Underestimated New Debt by $2.3 Trillion, CBO Says The Fiscal Times (Yesterday) - Yuval RosenbergMay 24, 2018Remember President Trump's 2019 budget — that big document released in February and then immediately dismissed or......
Health Subsidies Will Cost More Than $1 Trillion by 2028: CBO The Fiscal Times (Yesterday) - Yuval RosenbergMay 24, 2018The Congressional Budget on Wednesday put out a new report looking on the health care market for Americans under......