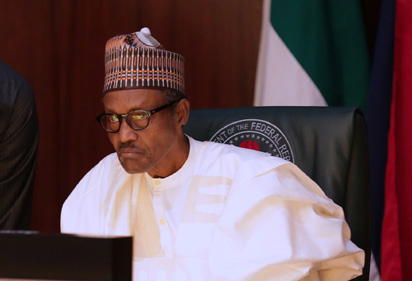 PRESIDENT Muhammadu Buhari on Tuesday wrote the Senate, declining assent to the new amendment to the Electoral Act regarding election sequence in the 2019 general elections.

The post Buhari rejects amended timetable for 2019 elections appeared first on Vanguard News....
By: Vanguard - 5 days ago
Related Posts
Older News
Ram Temple, social media and shifting alliances likely to make 2019 Lok Sabha polls expensive, devoid of positive sloganeering Firstpost (Today) - Unlike the previous elections which slogans like Achhe Din Aane Wale Hain and Congress Ka Hath Aam Aadmi Ke Sath, campaigning for the 2019 Lok Sabha polls anything but positive...
UP, Bihar by-elections and beyond: Trends from recent, previous polls don't portend good news for BJP in 2019 Firstpost (Today) - The results of by-elections and elections taken place after 2014 Lok Sabha polls indicate that whenever the Narendra Modi-led BJP decides to hold the parliamentary electionsThe post UP, Bihar by-elections...
2019: Buhari certain to win presidency even if APC loses 12 states — Senator Obende Vanguard (Yesterday) - As far as I am concerned, APC is a party to beat any time, any day. And all our leaders are aware of this. I know that, in their wisdom,...
REORDER OF 2019 ELECTIONS: INEC's schedule threatens democracy, Falae warns Vanguard (Yesterday) - We should do what is right, what is fair and what will deepen democracy in Nigeria. What will deepen democracy is that sequence of elections that will encourage parties to...
2019: Aluko Canvasses For More Women In Govt Leadership Newspapers (Yesterday) - The Diocesan Bishop of Methodist Church, Nigeria (Ifaki Diocese), Ifaki Ekiti in Ido-Osi local government area of Ekiti State, Rt Rev (Dr) Sunday Aluko, yesterday, urged the nation's electorate to...
Polls reordering: Pro-Buhari senators, Saraki's loyalists in power tussle The Punch (Yesterday) - JOHN AMEH  and LEKE BAIYEWU The power tussle between Senators, loyal to President Muhammadu Buhari, and those who are pushing for the reordering of elections heightened on Saturday with the President's...
INEC to release fresh timetable for Melaye's recall The Punch (Yesterday) - ENIOLA AKINKUOTU The Independent National Electoral Commission says it will release a fresh timetable and schedule of activities for the recall of Senator Dino Melaye, who represents Kogi West Senatorial...
Mamora rejects Buhari's appointment The Punch (Yesterday) - A former lawmaker, Senator Olurunnimbe Mamora, has rejected his appointment as the Chairman of the Abuja Investment and Infrastructure Centre, SUNDAY PUNCH learnt on Saturday. Mamora, who was the Deputy...
If Buhari is sincere, restructuring is possible before 2019 elections — Okurounmu The Punch (Yesterday) - The Chairman, Presidential Advisory Committee for the 2014 National Conference, Senator Femi Okurounmu, tells SAMUEL AWOYINFA that the President Muhammadu Buhari-led government can restructure the country before the 2019 general...
There is cold war between NASS, Buhari's executive – Sen. Sani Vanguard (Yesterday) - Sen. Shehu Sani (APC-Kaduna) says the All Progressives Congress(APC) must put its house in order to emerge victorious in the 2019 elections.The post There is cold war between NASS, Buhari's...