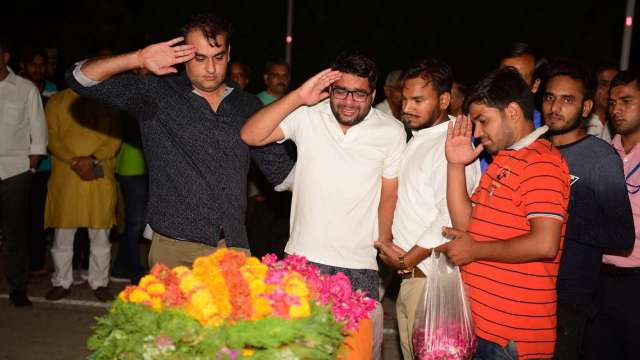 Assistant commandant Jitendra Singh had only recently completed his doctorate in Public Administration on the topic – Role of BSF in Internal Security. According to the faculty and the fellow research scholars at the University of Rajasthan, he was a unique combination of brains and brawns and had a keen aptitude to explore the academic frontiers just as he had the will to secure the territorial boundaries of his beloved nation.

Department officials and other students remembered the assistant commandant as joyful and a great motivator who helped those facing hard...
By: DNA India - Wednesday, 13 June
Related Posts
In the last 2 hours
The Accidental Prime Minister: See who will play former PM Manmohan Singh's wife role BollywoodLife (Today) - The film is based on a book by Sanjaya Baru, a former media advisor to Manmohan Singh....
Older News
Watch: Taapsee Pannu receives training by Sandeep Singh for role of hockey player in Soorma Firstpost (Today) - Former Indian hockey team captain, Sandeep Singh, on whose life Soorma is based, himself trained the cast to help them like ace their roles as athletes.The post Watch: Taapsee Pannu...
TM rugi berikutan laporan penurunan harga jalur lebar Free Malaysia Today (Yesterday) - Menteri Komunikasi dan Multimedia, Gobind Singh Deo berkata penurunan harga perkhidmatan jalur lebar adalah berikutan pelaksanaan Standard Mandatori Mengenai Penetapan Harga Akses (MSAP) pada 8 Jun lepas....
We're in the process of internationalising LASU — Prof. Fagbohun Vanguard (Yesterday) - Aside being ranked as the third best state university in Nigeria, Lagos State University, LASU, Ojo is set to be among the world's top ranking institutions through her partnership programmes...
Peguam: Jangan buka semula kes untuk puaskan orang awam Free Malaysia Today (Yesterday) - Peguam Manjeet Singh Dhillon berkata sukar untuk bergantung kepada bekas polis Azilah Hadri dan Sirul Azhar sebagai saksi pendakwa kerana kredibiliti mereka boleh dipersoalkan....
International Yoga Day LIVE updates: Modi performs asanas with 50,000 voluteers; Rajnath Singh joins UP celebrations Firstpost (Yesterday) - Narendra Modi has joined thousands of volunteers performing yoga asanas in Uttarakhand's Dehradun to mark the 4th International Yoga Day today while many Union ministers will join similar events across...
WARMINGTON: Online video of singing cops, aka Twin Squad, scrubbed Toronto Sun (Yesterday) - Maybe they should call this police show Dragnet two? It's not every day you see cops in a squad car dressed in blonde wigs and singing TLC hits. Meet Toronto...
Three held for trying to kill man by slitting his throat in Outer Delhi's Prem Nagar area DNA India (Yesterday) - Three persons including a 51-year-old woman have been arrested for allegedly trying to kill a man by slitting his throat, who had ill-intentions for the woman's daughter, on Wednesday from...
For farmers: Rajasthan government extends garlic procurement DNA India (Yesterday) - State government has extended the date of garlic purchase by 10 days. After a discussion taken at the level of chief minister, the date has now been extended till June...
Chitrangda Singh and Aditi Rao Hydari reveal their favourite spots in Mumbai DNA India (Yesterday) - The latest trend his summer/monsoon #FlirtWithYourCity has taken social media by storm and B-town cannot stop going gaga over their love for the city while the public is eager to...