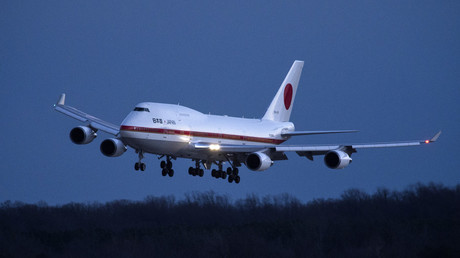 An investigation has been launched after an access panel on the wing of a Boeing 747 used by Japanese Prime Minister Shinzo Abe fell off during flight.

Read Full Article at RT.com...
By: RT - Daily news - Friday, 12 January
Related Posts
New In Last Half Hour
Video: Plane battles strong winds, makes dangerous landing Khaleej Times (Today) - The video shows a plane tilted sideways several times as winds blew up to 120 km per hour....
Older News
Chelsea Handler Rescues Two New Fluffy Puppies Following The Death Of Her Beloved Chunk! Perez Hilton (Yesterday) - Chunk and Tammy will never be forgotten.As we previously reported, Chelsea Handler sadly announced her beloved pup of nine years passed away last week, just months after the tragic passing...
Japanese PM opens new parliament but rules out changing law to combat North Korea Express UK (Yesterday) - JAPANESE Prime Minister Shinzo Abe opened a new session of parliament on Monday with familiar promises for economic reform and stronger defence, but steered clear of setting a timeline for...
Sioux Falls police take jab at Minnesota Vikings on Twitter Washington Times (Yesterday) - SIOUX FALLS, S.D. (AP) - Sioux Falls police took a good-natured jab at the Minnesota Vikings as the team lost to the Philadelphia Eagles in the NFC championship game, and...
Chelsea Handler Rescues Two Dogs After the Deaths of Her Beloved Pets Tammy and Chunk People.com (2 days ago) - Chelsea Handler is mom to two new dogs.After the deaths of her beloved pets Tammy, who she lost in August, and Chunk, who passed away on Thursday, the 42-year-old comedian introduced...
No injuries in emergency landing of small plane near Omaha Washington Times (3 days ago) - OMAHA, Neb. (AP) - Authorities say no one was injured when a small airplane made an emergency landing in a field southwest of Omaha. The incident happened Saturday afternoon when...
MLB all-star Roy Halladay had morphine, other drugs in system when plane crashed 9NEWS (4 days ago) - Morphine, Ambien, and trace amounts of alcohol were found in the major leaguer's blood after his plane crashed in the Gulf of Mexico last November.        ...
Robber falls from terrace during failed escape bid The Hindu (4 days ago) - Falls while jumping from one roof to the other; fractures legs...