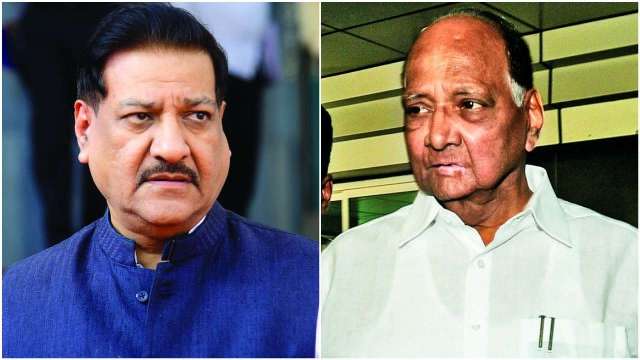 There are practical difficulties in renewing the alliance with the NCP for the 2019 Lok Sabha elections and Assembly polls in Maharashtra, the Congress says but is hopeful that an amicable solution can be worked out.

The two opposition parties had an acrimonious break-up ahead of the 2014 state polls.

Senior Congress leader Prithviraj Chavan said had the NCP not withdrawn support and called off the tie-up, the alliance together would have got 35% votes.

"Contesting separately was a loss to both the parties," he said.

The former chief minister admitted there were practical...
By: DNA India - Sunday, 14 January
Related Posts
New in Last 10 Minutes
JD(S) open to poll alliance with Left parties: Deve Gowda The Hindu (Today) - 'I have burnt my fingers by supporting Congress in the past'...
Older News
Shutdown's Political 'Ping-Pong Game' Frustrates Workers U.S. News (Today) - As Congress appeared ready to reopen the government Monday on the third day of a shutdown, some federal workers said they are angry that a political battle had put their...
Tesla Inc Stock Needs an Alliance to Stay Ahead of the Pack InvestorPlace (Today) - InvestorPlace - Stock Market News, Stock Advice & Trading TipsAlthough I used to be bearish on Tesla stock, I believe that the recent decision by many countries to further incentivize...
CPM not allying with Congress may spell victory for Pinarayi Vijayan but could prove wrong for party Firstpost (Today) - The draft political resolution adopted by the central committee (CC) of the Communist Party of India (Marxist) ruling out an alliance with the Congress is being widely seen in Kerala...
Ahead of Tripura election, INPT to join hands with other indigenous parties to form grand alliance against BJP Firstpost (Today) - In the light of the BJP-IPFT alliance announced for the Tripura elections, the INPT (Indigenous Nationalist Party of Tripura) has decided to unite all other indigenous parties.The post Ahead of...
No deal reached, as moderates search for shutdown solution Miami Herald (Yesterday) - Restive Senate moderates in both parties searched for a solution to a partisan stalemate as they raced toward a late-night showdown vote and their last chance to reopen the federal...
Salleh: Changing government not the solution Free Malaysia Today (Yesterday) - Minister says even Western democracies like the US and UK are facing political and economic crises, and changing their governments has made it worse....
High-Ranking U.S. Senate Republican Says He Is Hopeful Federal Shutdown to End U.S. News (Yesterday) - WASHINGTON (Reuters) - U.S. Senator John Thune, a member of the Senate's Republican leadership team, said on Sunday he was hopeful of a deal being......
Defection: PDP slams Oke The Punch (Yesterday) - Peter Dada, Akure The Ondo State chapter of the Peoples Democratic Party has lambasted Chief Olusola Oke for returning to the All Progressives Congress, describing him as a fair-weather politician....
'Common man doesn't demand sops, He expects to get what he deserves' The Times of India (Yesterday) - In an interview to Times Now, the PM responded to a question on whether the crisis in the judiciary was avoidable. The government and political parties should keep out of...