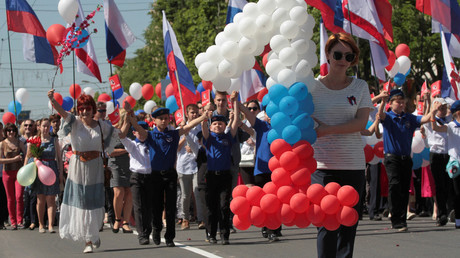 President Donald Trump seems to have demonstrated his trademark nuanced understanding of foreign politics when he reportedly told G7 leaders that "Crimea is Russian because everyone who lives there speaks Russian."

Read Full Article at RT.com...
By: RT - Daily news - Thursday, 14 June
Related Posts
In the last 2 hours
Ukraine Extends Its Russian Sanctions List U.S. News (Today) - KIEV (Reuters) - Ukraine President Petro Poroshenko has signed a decree to enact a recently adopted decision to expand sanctions on Russian......
Older News
Man predicts scores in 2 surprise Russia wins ahead of #WorldCup, bombarded with divination requests RT - Daily news (Yesterday) - A Russian musician and radio host has been bombarded with requests to tell fortunes after he correctly predicted scores in the two surprise victorious routs by the Russian squad at...
Donald Trump's three-front war Washington Times (Yesterday) - One-and-a-half years into his battle-weary presidency, Donald Trump is fighting a three-front war: With Congress on immigration, our trading partners and U.S. businesses on tariffs, and special counsel Robert S....
Kremlin Confirms Bolton Headed to Moscow to Discuss Summit VOA (Yesterday) - With World Cup 2018 now firmly under way in Russia, the Kremlin indicated it was back to business Thursday, holding a new round of talks with neighboring Ukraine and hinting...
Skripal nerve attack 'taught jihadists power of poison plots' Canberra Times (Yesterday) - The poisoning of a retired Russian agent acted as "big neon advertisement" to jihadists for the power of chemical attacks, an al-Qaeda informant said....
Sanctioned Russian interior minister says he had 'no problem' getting US visa RT - Daily news (Yesterday) - The Russian interior minister, who is in New York for a UN police summit, says he did not face any problems entering the US. Vladimir Kolokoltsev was among 24 Russians...
Vanessa Trump reportedly lied to Donald Trump about her relationship with a gangster Business Insider (Yesterday) - Vanessa Haydon Trump, Donald Trump Jr.'s estranged wife, reportedly lied about her high school romance with an alleged gangster when confronted by her then-soon-to-be father-in-law, Donald Trump....
Stop Prosecuting Jehovah's Witnesses in Russia, Kremlin Advisers Say VOA (Yesterday) - Advisers to President Vladimir Putin have questioned the legality of a slew of criminal cases opened against members of the Jehovah's Witnesses in Russia and asked the General Prosecutor's office...
Trump reportedly didn't want to name his first son after himself, saying 'What if he's a loser?' Business Insider (Yesterday) - It was Ivana's idea to name Donald Trump Jr. after his father...
Turkey held a bizarre ceremony to celebrate its F-35s — but it might not even get them Business Insider (Yesterday) - If Turkey owns the F-35 and a Russian air defense system, it could blunt a key NATO advantage over Russia: the next-generation capabilities of the most expensive weapons system every...