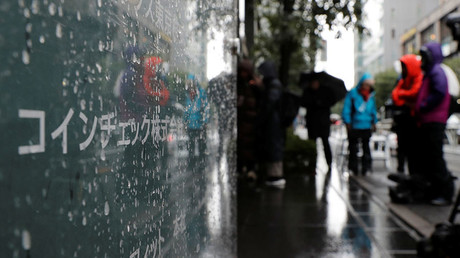 A group of cryptocurrency traders will file a lawsuit against Coincheck on Thursday after the Japanese exchange froze their assets following last month's huge heist, Reuters reported. Read Full Article at RT.com...
By: RT - Daily news - Tuesday, 13 February
Related Posts
Older News
Dogecoin explained: The joke cryptocurrency worth serious money video - CNET CNET (Today) - Such explanation! Many cryptocurrency! Wow!...
3 Lessons Traders Can Learn From Investors Forbes (Today) - Traders and investors have a lot in common but are different in many ways. Everyone is free to define traders and investors however they want but I need to keep...
Bitcoin: Charting the life and times of a cryptocurrency Deutsche Welle (Today) - What goes up must come down, old wisdom has decreed. Does it apply to the best-known digital token, Bitcoin? As the cryptocurrency's value has seen many ups and downs recently,...
300 Youth Benefit From Digital Marketing Programme In UWR Modern Ghana (Today) - The Upper West Regional (UWR) Secretariat of the National Youth Authority has recruited 300 unemployed youth in the region for training under the Digital Marketing and Entrepreneurship programme. The national...
Russian Organic Food Guy 'Tokenizes' Himself, Issues His Own Cryptocurrency Forbes (Yesterday) - Famous? Semi-famous? Issue you're on cryptocurrency. This Russian foodie just did and is certain to become a millionaire many times over....
Broke Venezuelan Government Turns To Cryptocurrency To Fund Election, Rakes In Millions Forbes (Yesterday) - Maduro's new cryptocurrency brought in $735 million. It is unclear how Washington reacts to sanctioning this new inflow of money a government it deems corrupt to high heaven....
CRYPTO INSIDER: Bitcoin traders might have found a 'golden opportunity' Business Insider (Yesterday) - Cryptocurrency arbitrage traders are profiting thanks to big differences in bitcoin's price between South Korean and other exchanges, sometimes as large as 13%....
Want To Learn About Bitcoin And Blockchain? There's A Tutor For That Forbes (Yesterday) - Want to get a solid foundation in all things cryptocurrency and blockchain? See how Varsity Tutors has your back....
Iran becomes latest rogue state to develop its own cryptocurrency CNBC (Yesterday) - Iran is considering the development of its own cryptocurrency, following the footsteps of Venezuela. Both countries are the focus of U.S. sanctions....
Robinhood rolls out zero-fee crypto trading as it hits 4M users TechCrunch (Yesterday) -  Coinbase has some serious competition. Today Robinhood starts rolling out its no-commission cryptocurrency trading feature in California, Massachusetts, Missouri, Montana and New Hampshire. Users can buy and sell Bitcoin and...