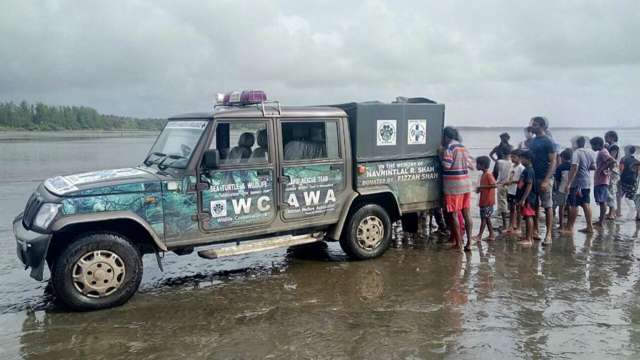 An ambulance meant to save and rescue sea turtles at Dahanu not only came in handy but also became the first to ferry victims of the tragic boat capsizing incident at Dahanu to hospital on Saturday morning.

Wildlife Conservation and Animal Welfare Association (WCAWA) ferried 17 students to hospital when no other help was available to ferry them. It was around 10:30am that Pratik Wahurwagh a volunteer with NGO WCAWA that runs a turtle rescue centre on the Dahanu beach received a phone call from a friend alerting him about the...
By: DNA India - 7 days ago
Related Posts
Older News
Girl rushed to CHEO by air ambulance after fall from horse Ottawa Citizen (Today) - An 11-year-old girl was rushed to CHEO early Saturday falling from a horse. The fall happened around 1:15 p.m. Saturday afternoon on a family farm near North Gower, Ottawa paramedics...
How British Airways averted air mishap The Punch (Today) - British Airways averted an air mishap after a pilot of one of its aircraft was forcefully removed from the cockpit by police. According to Fox News, police rushed on the plane...
More than 1K cold-stunned sea turtles found in Florida bay Washington Times (Today) - TAMPA, Fla. (AP) - More than 1,000 sea turtles stunned by unusually cold weather have been rescued from waters off Florida's Panhandle. U.S. Geological Survey sea turtle expert Margaret Lamont...
Fire in Delhi's Bawana Claims 17 Lives, Rescue Operation Underway india.com (Today) - Unconfirmed reports suggested that the injured persons were sent to Maharshi Valmiki hospital, Dr. Ambedkar hospital and Raja Harishchandra hospital in Narela....
Tom Petty's family hope accidental drug overdose report will help save lives Metro (Today) - Tom's cause of death was confirmed as an accidental drug overdose....
3 dead after boat explosion in Kentucky Global News (Yesterday) - Work was being done on the vessel and dozens of people were either aboard the boat or at the site when the blast occurred....
Accident mars fourth leg of Volvo Ocean Race France 24 (Yesterday) - A collision between a Hong Kong fishing boat and the American-Danish team overshadowed the fourth leg of the Volvo Ocean Race Saturday, with nine people rescued and one taken to...
Her dad's restaurant was struggling after Harvey. Jackie's viral tweet changed that. 9NEWS (Yesterday) - This teen helped save her parents' cafe with a viral tweet.        ...
13-Year-Old Oklahoma Boy Dies Trying to Save Paralyzed Dad From House Fire People.com (Yesterday) - An Oklahoma boy died in a fire at his family's Marietta, Oklahoma, home on Wednesday as he attempted to save his paralyzed father from the blaze, PEOPLE confirms.James Cummins, 60,...
Ambulance collides with van in Bristol Daily Mail Online (Yesterday) - This is the dramatic moment, caught on CCTV, that an ambulance in East Bristol, racing to an emergency call, collides with a van at a busy junction, but incredibly no...