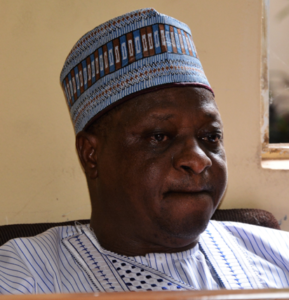 Youth Initiative for Advocacy Growth and Advancement (YIAGA) Africa, a Civil Society Organisation (CSO), on Thursday said recent conviction of Jolly Nyame and Joshua Dariye was victory for anti-corruption fight.

The post Dariye, Nyame's conviction, another victory for anti-corruption fight – CSO appeared first on Vanguard News....
By: Vanguard - Thursday, 14 June
Related Posts
New In Last 20 minutes
Fatal fight sets off anti-India protests, clashes in Kashmir Miami Herald (Today) - Police say at least two rebels, a police official and a civilian were killed during a gunbattle in disputed Kashmir, triggering anti-India protests and clashes in which several people have...
New In Last Half Hour
EU, ARAP Support Judicial Service To Fight Corruption Modern Ghana (Today) - As part of efforts to have a corruption-free country, the Accountability, Rule of law and Anti-corruption Programme (ARAP) under the European Union has supported the judicial service with electronic equipment....
Batidam Bows Out Of AU Anti-graft Board Modern Ghana (Today) - Ghana and West Africa 39;s representative on the AU Advisory Board on Corruption, Daniel Batidam, has resigned, citing deep-seated corruption, lack of accountability among others at the secretariat of the...
Older News
Watchdog finds 'deficiencies' in the way police investigate complaints Canberra Times (Yesterday) - Victoria Polices handling of complaints against its own officers, including allegations of assault and corruption, are questioned by anti-corruption commission....
2019: Macarthur foundation pledges N2.3bn to fight corruption The Punch (Yesterday) - Eniola Akinkuotu, Abuja The John D. and Catherine T. MacArthur Foundation has pledged $6.5m (N2.3bn) to anti-corruption efforts in Nigeria ahead of the 2019 general elections. The grants seek to...
Bullet Removed From Wounded Man Helps in Murder Conviction U.S. News (Yesterday) - Prosecutors in South Carolina say a bullet in a wounded security guard shifted enough after a year to be safely removed, and it helped lead to a murder conviction in...
Romania's Liviu Dragnea sentenced over fake jobs scandal Deutsche Welle (Yesterday) - Dubbed Romania's most powerful politician, the ruling PSD party leader has been found guilty of abuse of office. Romania has struggled against a concerted campaign to change the country's anti-corruption...
ENI Ready To Transport Gas From Sankofa Gye-Nyame Fields Modern Ghana (Yesterday) - Oil exploration firm ENI has assured it would start exporting gas from the Sankofa Gye-Nyame field by the end of this month. According to the ENI, it is working with...
German court quashes far-right politician's arson conviction Miami Herald (Yesterday) - A German federal court has overturned a far-right politician's conviction for burning down a building intended as refugee housing, and has ordered a retrial. In a ruling published Thursday, the...
Court upholds conviction in Brown University athlete assault Washington Times (Yesterday) - PROVIDENCE, R.I. (AP) - The Rhode Island Supreme Court has upheld the conviction of a Connecticut man who assaulted a former Brown University basketball player, leaving him permanently impaired. The...