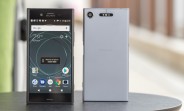 Sony announced the Xperia XZ1 at IFA last summer, and the phone subsequently made its way to the US in mid-September. It launched over there, in unlocked form, with a price tag of $699.99. In the meantime the price has dropped to $599.99, but today there's an even better deal to be had if you don't mind purchasing the handset in its Warm Silver iteration.

This color version, and only this one, currently retails for just $543.44 at Amazon. The device can also be bought in black, Moonlit Blue, or Venus...
By: GSMArena.com - 5 days ago
Related Posts
Older News
Sony's Dolby Vision TV Update Finally Rolls Out - And Leaves Sony TV Owners Fuming Forbes (Today) - Another day, another TV software update nightmare....
Sony Pictures CEO Admits Need to Grow Studio Amid 'Floodgates' of Big Media Mergers TheWrap (Today) - Sony Pictures Chairman and CEO Tony Vinciquerra said the company has reached its moment of truth: it's time to grow or be bought out, per media reports of his conversation at...
Silver Ikon, Buscadero, Areca Legend and Reference please The Hindu (Today) - : Silver Ikon, Buscadero, Areca Legend and Reference pleased when the horses were exercised here on Wednesday morning (Jan 17)Outer sand:600m: She's Superb (rb), Kartoos (rb) 44.5. Former finished two......
CEO Kaz Hirai on Sony turnaround: 'My job has been to revive pride in what we do' The Guardian (Today) - The firm's chief executive says his hands-on approach has paid off so far, but he's not ready for a victory lap just yetThe secret to rekindling Sony's return to form,...
Sony sets a date for its MWC 2018 event GSMArena.com (Today) - Bright and early in the morning of Monday, February 26 Sony will unveil new devices. That's the third day of the MWC. Of course, the press invite just promises technological...
ASK TONY: TV broke but Currys and Sony didn't want to know Daily Mail Online (Today) - I bought a Sony TV from Currys for £689 and my son fitted it to the wall. Seven months later, a white line appeared on the screen. I went back...
Sony could launch its flagship Xperia XZ Pro at MWC 2018; to feature 4K OLED display and more Firstpost (Today) - Sony Xperia XZ Pro is expected to be powered by a 3420 mAh battery and bring IP68 waterproof rating on the smartphone.The post Sony could launch its flagship Xperia XZ...
New update hitting Sony Xperia XZ, XZs and X Performance GSMArena.com (Yesterday) - Sony has started pushing out a new update to Xperia XZ, XZs and X Performance smartphones. It's basically a security update that moves the build number to 41.3.A.2.24, and includes...
Sony Xperia XZ Pro to land at MWC with 4K OLED screen, Snapdragon 845, dual rear cameras GSMArena.com (Yesterday) - Sony's next flagship smartphone will be called Xperia XZ Pro, according to the latest rumor out of China. The company will allegedly unveil this device at MWC next month.The XZ...
Sony adds 'Monster Hunter' and white PS4 Pro options this month Engadget (Yesterday) - Sony has released two new versions of the PS4 Pro that will be available exclusively at GameStop this month. The consoles are the Limited Edition Monster Hunter PS4 Pro Bundle...