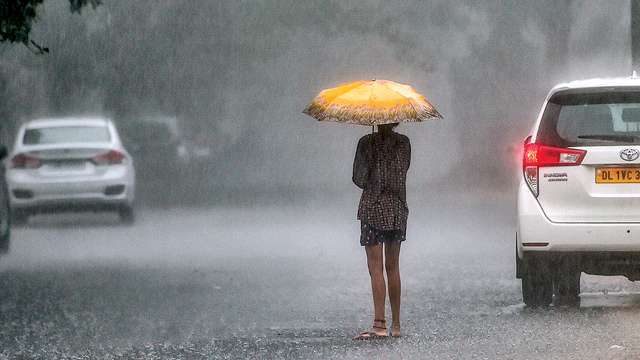 Heavy rain lashed parts of Delhi on Friday, triggering water-logging and traffic snarls in some areas. The affected areas included: Lutyens' Delhi, Sarita Vihar, Lajpat Nagar, Greater Kailash. The Meteorological Department forecast light showers for Saturday.

The Safdarjung observatory recorded 45.4 mm rainfall between 8.30 am and 5.30 pm, the Met Department said. Areas under Lodhi Road and Ridge observatories recorded 38 mm and 2 mm rainfall, respectively. The maximum temperature settled at 35.8 degrees Celsius, a notch above the season's average while the minimum temperature was recorded at 28.3 degrees...
By: DNA India - Friday, 10 August
Related Posts
Older News
Video: Heavy rains greet Haj pilgrims in Saudi Arabia Khaleej Times (Yesterday) - Sandstorm and rain are likely to hit the holy sites until Monday evening....
Heavy rain ruins early stages of Australia A's tour of India Canberra Times (Yesterday) - Heavy rain in India is impacting a tour Australian selectors are trying to use as a selection trial for the upcoming Test series against Pakistan....
Heavy rain lashes parts of Capital The Hindu (Yesterday) - Heavy rain lashed parts of the Capital on Sunday afternoon bringing respite from a humid start to the day. The weather station at Safdarjung received...
Kerala toll goes past 200 as floodwaters start receding The Times of India (Yesterday) - Met office said heavy showers were not expected in the state in the next five days. The immediate concern is preventing epidemics and water-borne diseases, even as health experts warned...
Muslims begin annual haj pilgrimage amid heavy rain Reuters (Yesterday) - As nearly 2 million pilgrims from around the world braved heavy rain in Saudi Arabia on Sunday to begin the annual haj ritual, the country's health minister said there was...
Rain continues to pound Chikkamagaluru The Hindu (Yesterday) - Heavy rain continued in several parts of Chikkamagaluru district on Sunday, triggering landslips and floods.Road connectivity was affected in many pl...
IMD predicts relief from rain for flood-battered Kerala, but Pinarayi Vijayan warns of rehabilitation challenge Firstpost (Yesterday) - As the flood situation in Kerala improves, IMD said 'heavy rain' is expected only in three districts. Pinarayi Vijayan said rehabilitation is the next challenge.The post IMD predicts relief from...
Kerala floods: NDMA says 6.33 lakh people in relief camps currently, no heavy rains expected from tomorrow Firstpost (Yesterday) - The IMD said Kerala may get some respite from the floods as no heavy rain is expected in the next four days, except in Idukki, Konnur and Kozhikode districts.The post...
Water levels start to fall in flood-ravaged Kerala as rain set to ease The Guardian (Yesterday) - Rescuers continue search for people and provide help for 600,000 in relief campsWater levels have started to fall in the south Indian state of Kerala and rain is predicted to...
UK weather: Storm Ernesto brings weekend washout to the north Daily Mail Online (Yesterday) - This morning will see heavy rain across the north of England and Scotland, but by the afternoon the rain brought by the sub-tropical storm will have moved over the North...