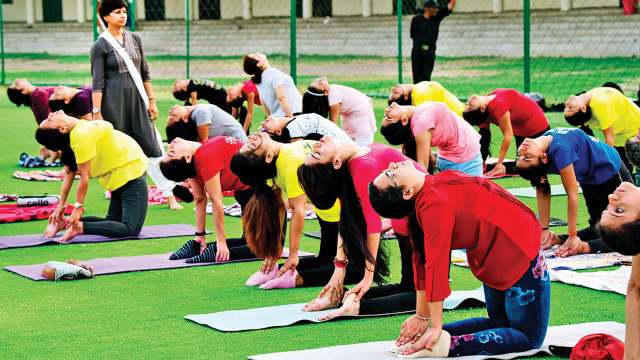 A research conducted at the All India Institute of Medical Sciences (AIIMS) has revealed that oxidative stress (OS) or oxidative DNA damage (ODD) in sperm may lead to childhood cancer.

The researchers had taken a sample size of 131 fathers and children with Rb (cancer gene) against 50 healthy pairs. These sets were examined and then re-examined with yoga and meditation compliance at every follow-up. The yoga sets, who quit smoking as well, showed reduced DNA damage over a period of six months.

The process of oxidation happens as our bodies process...
By: DNA India - Thursday, 9 August
Related Posts
Older News
Amazon is discounting Fire 7 Kids Edition tablets for a limited time Mashable (Yesterday) - Kids aren't always the most trustworthy when it comes to taking care of their stuff. Whether it's toys or new phones, all of the stuff you give them should be...
Is yoga more beneficial than stretching for NFL players? USA TODAY (Yesterday) - Poses in yoga are actually more beneficial to the body than simple stretches       ...
Former NFL linebacker credits yoga for saving his life USA TODAY (Yesterday) - Former NFL linebacker Keith Mitchell becomes certified yoga instructor       ...
Scientists detail full genome of wheat containing 1,07,891 genes for first time Firstpost (Yesterday) - The world needs more disease-resistant wheat varieties and breeds that can grow with less water.The post Scientists detail full genome of wheat containing 1,07,891 genes for first time appeared first...
Yoga Adhola's Book Is Interesting! Modern Ghana (Yesterday) - Friends, Classifying anyone as the successful at anything tends to reflect more on the source than the subject. So keep that in mind when I make the following statement: Yoga...
Atal Bihari Vajpayee passes away: Leaders across party lines react to demise of 'true Indian statesman' Firstpost (Yesterday) - Former prime minister of India, and Bharatiya Janata Party (BJP) party stalwart Atal Bihari Vajpayee passed away on Thursday, after a prolonged illness. Vajpayee was admitted to the All India...
Ben Affleck and His Three Kids Are All Smiles as They Grab Dinner for His 46th Birthday People.com (2 days ago) -  Ben Affleck spent some quality time with his three kids on his 46th birthday.The actor took 12-year-old Violet, 9-year-old Seraphina and 6-year-old Samuel to dinner Wednesday night in Los Angeles....
Hope for a new autism treatment: Scientists discover a defunct gene in people on the spectrum Daily Mail Online (2 days ago) - Scientists from the Spanish National Research Council, Madrid, found that the gene CPEB4 controls the expression of 200 other genes that have been linked to autism....
Parliament Passes Anti – Fake News Law Leadership Newspapers (2 days ago) - LEADERSHIPMalaysia's parliament on Thursday passes the Anti-Fake News 2018 bill, which set out fines of up to 500,000 ringgit (123,000 dollars) and jail of up to six years. This was...
Atal Bihari Vajpayee passes away at 93; latest updates: AIIMS announces demise of ex-prime minister Firstpost (2 days ago) - A large crowd of mediapersons and others have gathered outside the hospital in south Delhi to get updates on Vajpayee's heath, affecting movement of traffic on the road today. Policemen...