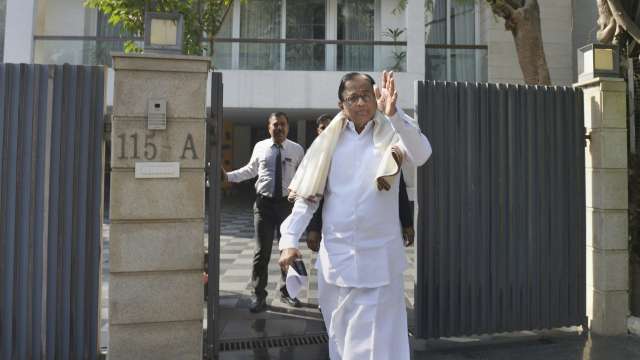 The Congress and its leader P Chidambaram today accused the government of "unleashing vicious vendetta" against the opposition after the Enforcement Directorate (ED) carried out raids at the residence of the former Union minister here in connection with its money laundering probe in the Aircel-Maxis case.

P Chidambaram accused the ED of misusing its power at the behest of the government. He said he would not succumb to pressure and continue to speak and write. He spoke to reporters outside his Jorbagh residence here, hours after the ED conducted searches at...
By: DNA India - 6 days ago
Related Posts
Older News
Almost 700 unlocked vehicles left running with keys inside in last 2 weeks: Calgary police Global News (Today) - Calgary police have released the numbers from a two-week campaign aimed at stopping drivers from leaving vehicles unlocked while they warm up on cold winter mornings. During Operation Cold Start,...
KCPD officers injured when man wielding cane attacks them The Kansas City Star (Today) - Two Kansas City police officers are being treated after they were assaulted by a man wielding a cane Friday morning at Union Station. Officers were called just before 7 a.m....
Steroids, date-rape drugs seized, 3 arrested in Quebec City raids Montreal Gazette (Today) - A pair of police raids carried out Thursday in the Val-Bélair sector of Quebec City has resulted in three arrests and the seizure of several kinds of drugs....
California AG threatens bosses who rat out immigrant workers with $10k fine RT - Daily news (Yesterday) - Amid "rumors" of imminent large-scale immigration raids, California's attorney-general is warning employers they will be fined up to $10,000 if they provide federal immigration officers with information on employees.Read Full...
ED grills Karti Chidambaram for 11 hours in INX Media money laundering case Firstpost (Yesterday) - Karti Chidambaram was questioned for about 11 hours by officials of the Enforcement Directorate in connection with the INX Media money laundering case.The post ED grills Karti Chidambaram for 11...
Two 'Mugus' Fight Over Woman On Court Premises Modern Ghana (Yesterday) - Two men, who fought over a 43-year ndash;old woman at the premises of the Accra High Court, were on Wednesday fined Gh cent; 120 each by the Accra Circuit Court....
California AG on reported ICE raids: Regardless of rumors, people have rights TheHill (Yesterday) - California Attorney General Xavier Becerra on Thursday issued a reminder amid rumors of increased immigration raids in the state that residents and law enforcement officials are expected to abide by...
INX Media PMLA case: ED grills Karti Chidambaram for 11 hours The Times of India (Yesterday) - Official sources said Karti Chidambaram was asked a number of questions on his role in the case and his statement was recorded under the Prevention of Money Laundering Act (PMLA)....
News24.com | Prosecutors urged to act in apartheid-era death of Ahmed Timol News24 (Yesterday) - The family of anti-apartheid activist Ahmed Timol, who was tortured and killed by police in 1971, is pushing state prosecutors to act against three former police officers linked to the...
An apologetic Meghan Markle and Prince Harry finally arrive in Cardiff an hour late after train delays Metro (Yesterday) - It's the royal couple's first official engagement in Wales....