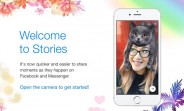 Facebook has discontinued the Messenger Day feature within its messaging app. Now, instead of having two separate stories feature within the Messenger and main Facebook app, the company now has the same stories across both apps.

What this means is that the Stories you see in the main Facebook app are the same ones that you see in the Messenger app. If you upload them in one app, they are visible in the other app. If you open them in one app, they are marked as viewed in the other app.

This...
By: GSMArena.com - Monday, 13 November
Related Posts
Older News
Facebook copies Snapchat's famous 'streaks' feature in Messenger app Metro (Today) - Streaks are designed to keep people sending messages to their mates and are highly addictive...
Facebook will let some of its users see if they interacted with Russian propaganda Kitchen Daily (Today) - Filed under: News, Tech News, Science & TechSome Facebook users will be able to see which Russia-linked pages they interacted with on the social network.Facebook still won't tell users whether...
Facebook Messenger is stealing Snapchat's streaks feature The Verge (Today) - Facebook loves to steal Snapchat features to block the popular messaging app's momentum. Ephemeral stories and messaging have arrived in Facebook, Instagram, and WhatsApp previously, and the company has even...
Facebook will soon let you know if you're following propaganda pages The Next Web (Yesterday) - Facebook's latest attempt at transparency lets users know if they liked or followed any pages related to Russia during the US election. Its newest effort furthers its effort to stop...
Facebook keeps its Snapchat copycat streak going with new Messenger feature Mashable (Yesterday) - Streaks aren't just for Snapchat, anymore.Facebook is now testing a version of a similar feature in Messenger, the company confirmed with Mashable. It's not clear how long the social network...
Facebook to Launch Tool to Check for Russian Trolls on Your 'Liked' Pages TheWrap (Yesterday) - Here's something you can warn your eccentric uncle about this Thanksgiving: Russian trolls invading his Facebook page.The social media behemoth is building a tool that will let users check to...
A new Facebook tool will let users see if they fell for Russian propaganda The Verge (Yesterday) - Facebook plans to offer a portal where users can see if they engaged with pages linked to Russian propaganda efforts. The portal, which Facebook says will be released by the...
Oh joy! Soon, Facebook will reveal what Russian propaganda you 'liked' Mashable (Yesterday) - Exciting news for Facebook users. In the near future, the social network will reveal what Russian propaganda users were exposed to during the 2016 presidential election. A list of Facebook Pages...
Facebook to unveil NG_Hub to boost innovation in Nigeria Vanguard (Yesterday) - Lagos – Facebook is set to open its first community hub in Nigeria to encourage innovation. The hub is to be known as "NG_Hub from Facebook''. Facebook's Head of Platform...
'I legit thought we were going to fight' – 7 people share their worst first date stories Metro (Yesterday) - 'He hid in the bathroom to eat his bar snacks.'...