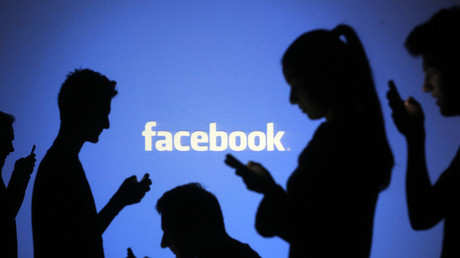 It has emerged that Facebook used a "treason" tag to mark some of its users. When Danish media reported that FB had since discontinued the label, it also decided to single out only 'evil Russians' as possible abusers of the data. Read Full Article at RT.com...
By: RT - Daily news - 3 days ago
Related Posts
New In Last 45 Minutes
Yoweri Museveni, Uganda president, fights 'fake news' with social media tax Washington Times (Today) - Social media users in Uganda are in a pitched battle with longtime President Yoweri Museveni, who is trying to curb the spread of "fake news" and online "olugambo" — gossip...
Older News
People don't want Facebook meddling in their dating lives, says Match Group CEO Mandy Ginsberg Re/code (Today) - Match owns several of the world's biggest dating sites and apps — including Tinder, Match.com and OKCupid — but now has to think of Facebook as a competitor. At its...
Administrators offered £1 for Cambridge Analytica affiliate Financial Times (Today) - Filing shows efforts to sell SCL Elections failed following Facebook data scandal...
Here's how much you would have made investing $1,000 in Facebook, Amazon, Netflix and 19 other major companies back in the day Business Insider (Yesterday) - Using historical price data from Yahoo Finance, we took a look at how an early investment in 22 big-name companies — including Facebook, Amazon, Walmart, and Netflix — would have turned...
Facebook, Twitter, Youtube to testify for 'filtering content' Prothom Alo (Yesterday) - The US House Judiciary Committee will hold a hearing on Tuesday to take testimony from Facebook Inc, Alphabet Inc's YouTube unit and Twitter Inc on whether social media companies are...
Hindu Pakistan Remark: Shashi Tharoor Booked in Kolkata, Summons Issued Through Facebook And Twitter india.com (2 days ago) - The court has reportedly summoned Tharoor through social media platforms Facebook and Twitter in this regard....
Facebook To Train 20,000 Nigerian Youths Leadership Newspapers (2 days ago) - LEADERSHIPAbout 20,000 Nigerian youths are to be trained in digital software job creation by Facebook, a United States-based social media firm, the director-general of the Nigeria Information Technology Development Agency...
Facebook's fight against fake news stops short of banning it The Next Web (2 days ago) - As Facebook continues its alleged fight against fake news, it's been undermined this week by a comment made by an executive that makes it seem as though the company isn't actually...
Facebook reportedly hires an AI chip head from Google TechCrunch (2 days ago) - Facebook is continuing to devote more resources to the development of AI-focused chips, bringing aboard a senior director of engineering from Google who worked on chips for Google's products to...
Facebook, Twitter, Alphabet to testify at U.S. House hearing Firstpost (2 days ago) - WASHINGTON (Reuters) - The U.S. House Judiciary Committee on Tuesday will hold a hearing to take testimony from Facebook Inc , Alphabet Inc's YouTube unit and Twitter Inc on whether...