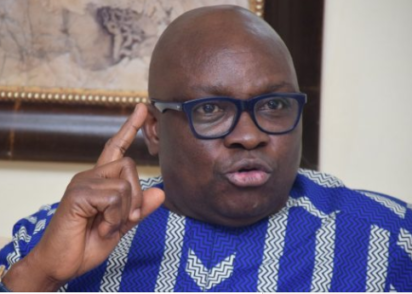 Following incessant attacks on Ipao-Ekiti in Ikole Local Government area by herdsmen, Governor Ayodele Fayose of Ekiti State has promised to set up a five man committee that would investigate the root cause of the killings in the town.

The post Fayose warns against reprisal of herdsmen killing, summons security meeting appeared first on Vanguard News....
By: Vanguard - 7 days ago
Related Posts
In the last 2 hours
Herdsmen killings: Reps Endorse Ranches, Reject Cattle Colonies Leadership Newspapers (Today) - …to visit select affected areas  Disturbed by clashes between herdsmen and farmers that has resulted in deaths of Nigerians, the House of Representatives yesterday, called on the federal government to...
Older News
[PHOTOS] Fayose, Fulani herdsmen sign MoU for peace The Punch (Today) - In an event that reportedly lasted two hours between the midnight of Monday, February 19, 2018 and early morning of the 20th, Fulani herders swore to an oath assuring the...
Buhari must order arrest of Ango Abdullahi over herdsmen comments- Adeyanju's group Vanguard (Today) - Buhari must order arrest of Ango Abdullahi over comments on herdsmen – Group A pro-democracy and good governance group, Concerned Nigerians, has called on President Muhammadu Buhari to order the...
Killings: Reps opt for ranches, turn down proposed cattle colonies for Fulani herdsmen Vanguard (Today) - Members of the House of Representatives at Tuesday plenary adopted a motion preferring the establishment of ranches for fulani herdsmen to the proposed cattle colonies.The post Killings: Reps opt for...
Ajimobi Orders Arrest, Prosecution Of Armed Herdsmen In Oyo Leadership Newspapers (Today) - Oyo State Governor, Senator Abiola Ajimobi has directed security agencies in the state to begin immediate arrest and prosecution of Fulani herdsmen caught carrying guns and other dangerous weapons across...
Herdsmen/Farmers clashes: Security situation has returned to normal in Benue, Nasarawa – IGP Vanguard (Today) - Inspector General of Police, IGP Ibrahim Idris on Tuesday disclosed that after the period of skirmishes and confrontation between herdsmen and farmers over grazing activities as well as that of...
Al-Qaeda claims separatist leader's killing in Kashmir; Zakir Musa warns Hurriyat against pursuing 'secular politics' Firstpost (Today) - A week after two unidentified gunmen killed former militant commander and separatist leader, Mohammad Yusuf Rather, shooting him dead inside a passenger vehicle, the police is investigating claims made by...
HAPPENING NOW: Benue/Nassarawa crisis: IGP meets stakeholders in Abuja The Sun News (Today) - Molly Kilete, Abuja The Inspector General of Police(IGP), Ibrahim Idris, is currently meeting with stakeholders from Benue and Nassarawa states to find a lasting solution to  the incessant attacks by...
Former Catalan MP to spurn Spain court summons in Switzerland Reuters (Today) - MADRID (Reuters) - A former member of Catalonia's parliament who fled to Switzerland after Madrid blocked the region's bid to separate from Spain says she will not attend a Spanish...
Killing of innocent Nigerians by herdsmen, serious security challenge Vanguard (Today) - By Wole Mosadomi Minna—Immediate past Governor of Niger State, Dr. Muazu Babangida Aliyu, has described the continuous killing of innocent Nigerians by herdsmen as a serious security challenge for the...