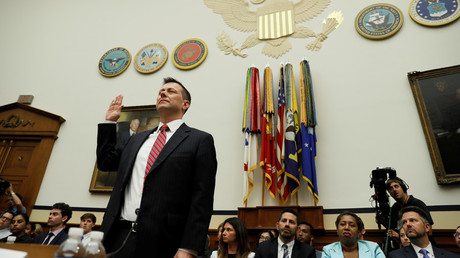 Anti-Trump text messages he exchanged with Lisa Page were expressions of "deep patriotism" and not bias, FBI agent Peter Strzok told US Congress. He also claimed the hearing was a victory for Russian efforts to destroy America. Read Full Article at RT.com...
By: RT - Daily news - 6 days ago
Related Posts
New In Last 25 minutes
The Latest: Trump says he told Putin to end election hacking Yahoo News (Today) - WASHINGTON (AP) — The Latest on continuing reaction to President Donald Trump's summit with Russia's Vladimir Putin (all times local):...
New In Last Half Hour
Trump says he holds Putin personally responsible for election meddling TheHill (Today) - President Trump said in a new interview that he holds Russian President Vladimir Putin responsible for Russian meddling in the 2016 election, despite his refusal to condemn Putin publicly during...
In the last 2 hours
Democrats want Trump interpreter to testify about Putin summit The Punch (Today) - Democratic lawmakers on Wednesday pushed for Congress to subpoena Donald Trump's interpreter, amid a growing sense of alarm over the private summit in Helsinki between the US president and Russia's...
White House struggles to contain fallout from Trump-Putin summit Reuters (Today) - The White House struggled on Wednesday to contain the furor over President Donald Trump's heavily criticized summit with Russian President Vladimir Putin, denying Trump ever meant to say that Moscow...
Older News
Martha Roby Won. Here's How Other Pro- and Anti-Trump Republicans Are Faring. The New York Times (Today) - One question has made and broken Republican campaigns so far this year: To embrace President Trump, or to oppose him?...
White House denies Trump said Russia no longer targeting U.S. Firstpost (Today) - WASHINGTON (Reuters) - The White House denied that U.S. President Donald Trump said on Wednesday that Russia was no longer targeting the United States, saying his answer "no" was about...
Bauchi APC denies plans to oust Dogara Vanguard (Today) - The Bauchi state chapter of the All Progressives Congress APC has denied purported plans to frustrate the Speaker of the House of Representatives, Yakubu Dogara out of the party.The post...
Congress' social media hearing was a 'stupid' sideshow Engadget (Today) - Tuesday marked another chapter in the "Tech Companies go to Congress" story, with Facebook, Twitter and YouTube testifying before the House Judiciary Committee. The hearing, titled "Examining the Content Filtering...
US media claims Trump betrayed America with Putin meeting – Republican voters say otherwise RT - Daily news (Today) - Despite breathless reports insisting that President Donald Trump betrayed America by meeting with Vladimir Putin in Helsinki, a vast majority of Republicans approve of his dealings with Moscow, according to...
Kevin de Leon, California Senate challenger, calls for Trump's impeachment Washington Times (Today) - Senate candidate Kevin de Leon urged Capitol Hill leaders Wednesday to kick-start the steps needed to remove President Trump from office, saying his actions during the recent summit with Russian...