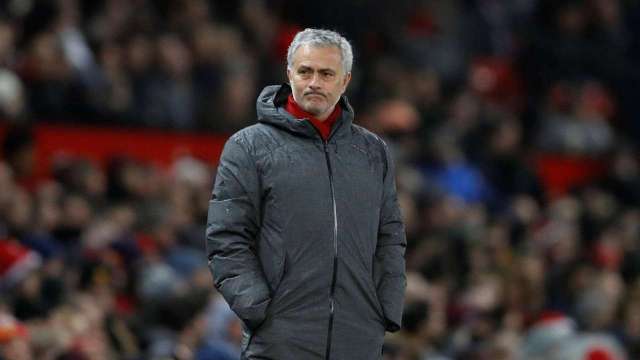 Manchester United manager Jose Mourinho has backed England to shine at the World Cup due to the depth of experience in the squad.

"They have a good group of young but experienced players," Mourinho told British media.

"All of them play in the most competitive competition in the world, the Premier League, all of them playing for the best teams with experience of playing in the Champions League, which is a high level of football, obviously."

 

Mourinho said favourites Brazil and Germany had the most balanced squads and he did not expect the...
By: DNA India - Wednesday, 13 June
Related Posts
New In Last Hour
Trophy lager revs up support for Eagles The Sun News (Today) - Trophy, a popular lager on the stable of International Breweries Plc, a proud part of the world's largest brewer, Anheuser-Busch InBev, (AB InBev) has launched a campaign, #RaiseATrophy, aimed at...
Older News
FIFA World Cup Google Doodle celebrates football culture in Brazil, Nigeria and other nations on Day 9 Firstpost (Today) - Friday's Google Doodle features the six teams from Group D and Group E that will play their matches in Russia. The teams are Brazil, Costa Rica, Nigeria, Iceland, Serbia and...
FIFA World Cup 2018: Luka Modric stars to help Croatia beat hapless Argentina and cruise into Round of 16 Firstpost (Today) - The defeat means Argentina have just one point from two games, meaning they will have to beat Nigeria in their last game and hope other results go their way.The post...
World Cup Results 2018: Thursday's Scores and Updated Group Standings Bleacher Report (Today) - Argentina's 2018 FIFA World Cup hopes hang by a thread after they fell 3-0 to Croatia on Thursday, with Zlatko Dalic's side booking their place in the knockout stages as...
World Cup 2018 Groups Table: Updated Standings After Thursday's Matches Bleacher Report (Today) - Croatia booked their place in the last 16 of the 2018 FIFA World Cup with a 3-0 win over Argentina on Thursday which leaves La Albiceleste on the brink of...
Suleiman Habuba thumbs up for Russia 2018 organsation Vanguard (Today) - Suleiman Habuba is a former Director of Communications of the Confederation of African Football and now a football and business consultant. He is in Russia for the on-going FIFA World...
What a Messi! Caballero clanger sums up Sampaoli's shambolic Argentina Goal.com (Today) - A huge error from the Manchester City goalkeeper helped Croatia on their way as the Albiceleste stare at a humiliating first-round exit in Russia...
England beat Australia by six wickets, lead ODI series 4-0 France 24 (Today) - England beat Australia by six wickets to win the fourth one-day international at Chester-le-Street on Thursday as they went 4-0 up in the series with one to play.England, set a...
Serbia's Matic expects 'hellish' Swiss World Cup clash The Punch (Today) - Manchester United midfielder Nemanja Matic said Thursday his Serbia side were ready for a "hellish" clash against Switzerland in a crunch Group E encounter tinged with political tension. The Serbs...
Lionel Messi, Argentina's World Cup Hopes in Tatters After Loss vs. Croatia Bleacher Report (Today) - Croatia pulled off an audacious upset of Argentina at the 2018 FIFA World Cup on Thursday and defeated the South Americans 3-0 to ascend to the top of Group D,...