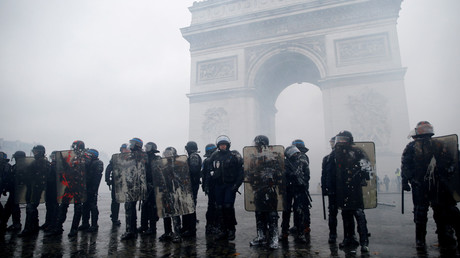 With protesters planning to converge in the Elysee Palace in Paris on Saturday, French authorities are preparing to deploy 8,000 additional officers in Paris and 65,000 nationwide.

Read Full Article at RT.com...
By: RT - Daily news - Thursday, 6 December
Related Posts
Older News
France doesn't want to wait for European tax reform to tax tech giants TechCrunch (Today) - France's Economy Minister Bruno Le Maire held a press conference earlier today to announce that France will tax big tech companies starting on January 1st, 2019. This has been a...
Alliant Energy Center plan calls for increased connectivity Washington Times (Today) - MADISON, Wis. (AP) - Officials hope that a plan to redevelop an events center in Madison will help the campus better accommodate events and stay competitive The Capital Times reports...
AP PHOTOS: 2018 a year of discord in Europe Miami Herald (Today) - As 2018 draws to a close, Europe is no closer to knowing the final outcome of Brexit, while Russia's ties with the West show no sign of improving. The streets...
France's women handballers defeat Russia to win first European title Modern Ghana (Today) - France's national women's handball team are European champions for the first time in their history, after defeating Russia 24-21 in a nail-biting final at the AccorHotels Arena in Paris, Sunday....
5 things to know for Monday, December 17, 2018 CTV News (Today) - Yellow vest protests -- originally started in France over fuel taxes -- have reached Canada with protesters criticizing a laundry list of the Liberal government's policies. Here's what else you...
Labor conference: CDP to be abolished as part of reconciliation plan – live - The Guardian Google News Australia (Yesterday) - Labor conference: CDP to be abolished as part of reconciliation plan – live  The GuardianBill Shorten outlines plan for government at Labor's national conference after protest ambush  ABC NewsBill Shorten ambushed by...
Macron's ex-bodyguard Benalla faces fresh charges France 24 (Yesterday) - French President Emmanuel Macron's former top security aide Alexandre Benalla, who caused a political storm after it emerged he had roughed up protesters at a May Day demonstration, is facing...
France's handball world champions clinch European gold France 24 (Yesterday) - France's handball world champions edged Russia 24-21 during a tense final in Paris on Sunday to win the women's European championship in front of a delighted home crowd....
Macron govt hopes 'yellow vest' protests running out of steam Eyewitness News (Yesterday) - Around 66,000 protesters turned out again on Saturday for a fifth round of anti-government demonstrations, which sprung up over fuel tax hikes last month....
Russian women's handball team slip to defeat against France in Euro final RT - Daily news (Yesterday) - Russia's women's handball team had to settle for second at the European Championship in Paris as they went down to defeat against the French hosts in the final. Read Full...