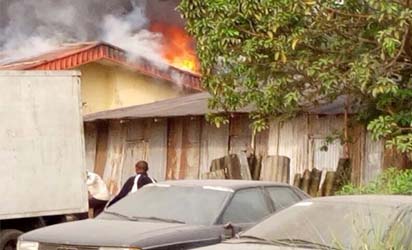 Firemen have rescued four children and an adult trapped in a burning house on Monday evening in Kano, spokesman of Kano State Fire Service, Saidu Mohammed, has said.

The post Firemen rescue 5 from burning house in Kano appeared first on Vanguard News....
By: Vanguard - Tuesday, 13 March
Related Posts
Older News
Rally: PDP threatens legal action against Kano Govt. Vanguard (Today) - The People's Democratic Party (PDP) in Kano state has threatened to take legal action against the state government for allegedly using the police to stop its planned rally in Gaya...
57-year-old jailed for sexually exploiting teenager The Punch (Yesterday) - Olaleye Aluko, Abuja A Federal High Court in Kano State has sentenced a 57-year-old man, Yusuf Umar, to 10 years' imprisonment for keeping in his custody a 14-year-old girl and...
Kano PDP vows to hold rally, faults cancellation by police The Sun News (Yesterday) - Desmond Mgboh, Kano  The Peoples Democratic Party (PDP), Kano State, has vowed to go ahead with its planned rally, today, even as it accused the state Police Commissioner, Alhaji Rabiu...
Officials Identify Burning Body, Investigating as Homicide U.S. News (Yesterday) - Authorities say a man whose body was found burning in a western Massachusetts field earlier this month has been identified and they are investigating the death as a homicide....
Watch strangers rescue man from burning SUV USA TODAY (2 days ago) - Police dashcam caught the moment when strangers banded together to help a man who was trapped underneath his burning car. Westtown-East Goshen, PA police say, the driver crashed into the...
DSS arrests ex-Kwankwaso's Chief of Staff for alleged misleading info The Sun News (2 days ago) - Desmond Mgboh, Kano The Department of State Service (DSS) has arrested former Chief of Staff to former Governor Rabiu Musa Kwankwaso, Dr. Yanusa Dangwani. The former Chief of Staff, according...
DSS arrests Kwankwaso's ex-aide, retired captain over Boko Haram scare in Kano Vanguard (2 days ago) - Operatives of Department of State Security, DSS, have arrested Alhaji Yunusa Adamu Dangwani, Chief of Staff of Kano State ex-governor, Rabiu  Kwankwaso, and one Captain Umar Abdullahi (retd) of the...
Police in California pulled a man from a burning building. Seconds later, it exploded Global News (3 days ago) - Dramatic video out of Cypress, Calif., shows the moment police pulled a man from a burning mobile home – seconds before the home exploded....
Watch as good samaritans flip burning SUV, save driver USA TODAY (3 days ago) - Incredible moments caught on camera as good samaritans managed to flip a burning SUV and rescue the driver. Nathan Rousseau Smith has the story.       ...
Passers-by flip over burning car to rescue driver trapped after crash Miami Herald (3 days ago) - Police in Chester County praised the actions of a number of citizens who came to the aid of a driver who was trapped under his burning car after crashing into...