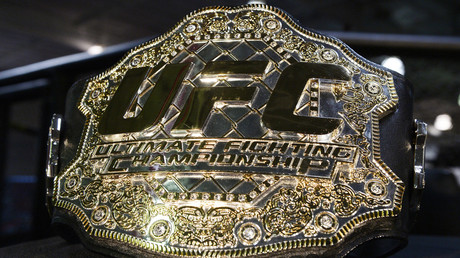 Mark Coleman, a former UFC heavyweight champion and member of the USA's 1992 Olympic wrestling team, claims he was a victim of a now-deceased doctor accused of sexual misconduct by more than 100 students. Read Full Article at RT.com...
By: RT - Daily news - Friday, 10 August
Related Posts
New In Last Hour
NASCAR champion Martin Truex Jr. needs sponsor to keep team intact 9NEWS (Today) - Furniture Row is seeking a primary sponsor for 2019, and does not have contracts with Truex or manufacturer Toyota.        ...
Older News
Ohio State football: What we know as investigation into coach Urban Meyer wraps up USA TODAY (Today) - Ohio State officials said an investigation into Meyer's handling of domestic abuse allegations against an ex-assistant coach would finish Sunday.       ...
Daniel Cormier Taunts 'Smaller' Brock Lesnar on Twitter During WWE SummerSlam Bleacher Report (Yesterday) - With a fight against Brock Lesnar likely looming on the horizon, UFC light heavyweight and heavyweight champion Daniel Cormier couldn't help but needle the now-former WWE universal champion......
Larry Nassar Moved From Arizona federal prison; 50 more sue ex-doctor USA TODAY (Yesterday) - Convicted sex abuser and former Team USA gymnastics doctor Larry Nassar is facing 50 new lawsuits since the original settlement, The Detroit Free Press reported.       ...
Police apologise over 'victim-blaming' rape advice tweet - The Independent Google News U.K. (Yesterday) - The IndependentPolice apologise over 'victim-blaming' rape advice tweetThe IndependentMerseyside Police has apologised and deleted social media posts about a rape prevention campaign after being accused of "victim blaming". The force...
Larry Nassar Transferred from Arizona Prison, Attorneys Said He Was Assaulted Bleacher Report (Yesterday) - Larry Nassar, the former Michigan State and Team USA doctor who was convicted of sexual misconduct and possession of child pornography, is reportedly being transferred to another prison ......
Jack Miller 'committed as ever' to Ohio State, despite investigation USA TODAY (Yesterday) - Despite the ongoing investigation into the Ohio State football program, Scottsdale Chaparral QB Jack Miller's father says his son is 'committed as ever' to the Buckeyes.       ...
Exhibit showcases images of Mexico border walls, fences Washington Times (Yesterday) - NEWARK, Ohio (AP) - An upcoming art exhibit will showcase different barriers along the U.S. border with Mexico based on years of research by an Ohio professor. Kenneth Madsen is...
Tyson Fury confirms Deontay Wilder bout after second comeback win RT - Daily news (Yesterday) - The lineal heavyweight champion of the world, Tyson Fury, set up a November date with undefeated WBC champion Deontay Wilder after Fury turned in a measured performance to outpoint Francesco...
Paul Gascoigne jokes around with heavyweight champion Deontay Wilder Daily Mail Online (2 days ago) - The English footballing legend was seen landing a couple of cheeky digs to the WBC World Heavyweight Champion's chin and ribs today, before planting a kiss on his cheek....