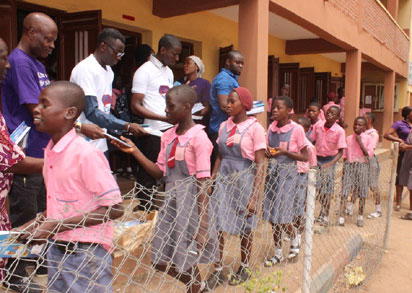 Mr Mudashiru Obasa Foundation, pet project of Mr. Damola Adekunle, has distributed stationeries to pupils, teachers and principal of Sango Junior Secondary School, Agege, a school for both normal kids and children with special needs.

The post Foundation donates stationeries to Agege School appeared first on Vanguard News....
By: Vanguard - 5 days ago
Related Posts
Older News
Church Donates Borehole To Abuja Community Leadership Newspapers (Yesterday) - In a bid to alleviate the suffering of the people, The Redeemed Christian Church of God, The Throne Room, has donated a borehole to a village in Katampe 2, Abuja....
3,500 Child Labourers Rescued Modern Ghana (Yesterday) - The General Agricultural Workers Union (GAWU) says it has withdrawn more than 3,500 children from child labour since 2013 in its bid to eliminate the menace. Mr Edward Kareweh, the...
National Science Foundation Awards $1M to College U.S. News (Yesterday) - The National Science Foundation has awarded five-year, $1 million grant to a university in southwest Ohio for student scholarships and research experience....
Gripping battle ends with a tie NationNews Barbados (2 days ago) - Neither the photo-finish cameras nor calculators could separate Christ Church Foundation and The St Michael School yesterday as they battled to a historic tie for the girls' title in the...
Zinke to give keynote address at elk foundation convention Washington Times (2 days ago) - PHOENIX (AP) - Interior Secretary Ryan Zinke is scheduled to give a keynote address Friday at the Rocky Mountain Elk Foundation's annual convention. A spokeswoman for the foundation, Lisa Bishop,...
Joint jubilation as SMS, Foundation rule BSSAC 2018 NationNews Barbados (2 days ago) - The St Michael School has done the double while the Christ Church Foundation School has achieved a hat-trick of titles. This after both schools tied for first position to jointly...
Insurgency: Germany Donates 5 Gun Boats To Nigerian Navy Leadership Newspapers (3 days ago) - The Consul General of Germany in Nigeria,  Mr. Ingo Herbert, has donated five gun boats to the Nigerian Navy as part of his country's contribution to the fight against insurgency...
July eyed for distribution of Parkland shooting donations Sun Sentinel (3 days ago) - Millions of dollars raised by the Broward Education Foundation for victims and families of the mass shooting at Marjory Stoneman Douglas High School in Parkland will likely be distributed in...
Agege Community Adopts Ambode, Obasa, Ogundimu For Another Term Leadership Newspapers (3 days ago) - The Agege community yesterday rose in unison to endorse Governor Akinwunmi Ambode Speaker , Lagos State of Assembly, Rt. Hon. Mudashiru Obasa and Hon Oluyinka Ogundimu for another term in...
UN donates $9m to provide life saving aids to 60,000 persons Vanguard (3 days ago) - The United Nations, through the Nigeria Humanitarian Fund, has allocated US$9 million to provide life-saving aid to some 60,000 children, women and men recently displaced by ongoing hostilities in Borno...