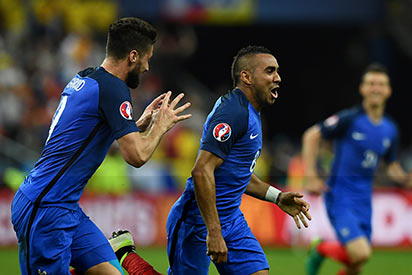 France will play five friendly matches next year in the build-up to the World Cup in Russia, including a trip to the tournament hosts in March, the French Football Federation announced on Thursday.

The post France line up Colombia, Russia friendlies ahead of World Cup appeared first on Vanguard News....
By: Vanguard - Thursday, 7 December
Related Posts
New In Last 20 minutes
'Most important relations': How US pressure may help turn China-Russia strategic ties into alliance RT - Daily news (Today) - The Chinese Ambassador has praised the Russia-China relationship as "the best in the world," but analysts tell RT it falls short of a close economic or military alliance. This may...
New In Last Hour
French women dethrone Norway to take handball world title France 24 (Today) - France took the women's handball world title from Norway with a 23-21 victory over the previous champions in Sunday's final in Hamburg.The triumph means France matched a feat only previously...
Older News
Russia triumphs with a round to spare The Hindu (Today) - Russia has produced 12 of 20 the World chess champions. A bunch of talented young Russians proved that the future of their country was bright in the mind sport, as...
Mohammed Bin Salman Owns World's Most Expensive Home, Chateau Louis XIV, in France india.com (Today) - New York, Dec 17: Mohammed Bin Salman, the Crown Prince of Saudi Arabia, owns world's most expensive home in France. The home, Chateau Louis XIV, with a 57-acre sprawling campus was...
Egypt to play Portugal, Bulgaria in pre-WCup friendlies USA TODAY (Today) - Egypt to play Portugal, Bulgaria in pre-WCup friendlies in March       ...
French sailor breaks record for fastest solo trip around the world Deutsche Welle (Yesterday) - France's Francois Gabart has broken the world record for the fastest solo sailing trip around the globe. Zipping around the world in his high-tech sailboat, he beat the previous record...
Eagles goalkeepers will be ready for Russia 2018 — Agu Vanguard (Yesterday) - Super Eagles assistant coach, Alloy Agu has assured that the team will not lack quality goalkeeping at the 2018 FIFA World Cup tournament in Russia.The post Eagles goalkeepers will be...
Around the world in 42 days: French sailor smashes solo record France 24 (Yesterday) - Frenchman Francois Gabart smashed the world record for the fastest solo navigation of the globe on Sunday, completing the mammoth feat in 42 days, 16 hours, 40 minutes and 35...
Russia 2018 W/Cup: ABITECH vows to boost power supply Vanguard (Yesterday) - Football fans who want to enjoy the Russia 2018 FIFA World Cup and other Sports events live in their living rooms have been reassured of stable electricity by the management...
UN Security Council considers call for U.S. Jerusalem decision to be withdrawn Global News (Yesterday) - A resolution needs nine votes in favor and no vetoes by the United States, France, Britain, Russia or China to be adopted....