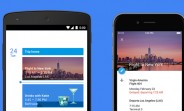 Last week, Google added a new feature to its Calendar service that lets you know when everyone declines an event created by you. The feature was initially only rolled out to G Suite users, but it is now available to all users on Android.

Google Calendar for Android has just been updated to reflect the addition of this functionality. Here's what the changelog says:

Everyone declined indication - know when everyone has declined an event and take action (cancel or reschedule)

The indication (that everyone has declined your event) appears in the form...
By: GSMArena.com - 5 days ago
Related Posts
New In Last 40 minutes
How to text from your computer with Android Messages The Verge (Today) - Yesterday Google started rolling out the ability to text from the web with Android Messages. The feature gives users a lot more flexibility in choosing how and where they can...
New In Last Hour
Google Podcasts Hands On: It's About Time WIRED (Today) - After years of mostly ignoring the podcast world, Google now makes a dedicated Android app for listening. And it's pretty good!...
The Google Home and Home Mini are now available in Spain, Ireland, and Austria The Verge (Today) - The Google Home and Home Mini are now available for purchase in Spain, Austria, and Ireland. The Google Home will cost €149 ($172.54), while the Home Mini will cost €59...
Older News
Huawei P9 might not get the Android 8.0 Oreo update GSMArena.com (Today) - Even though Huawei launched the beta testing of the Android 8.0 Oreo on some of its older devices two months ago, including the Huawei P9 and P9 Plus, someone from...
Lyft's app code reveals unlaunched bike or scooter feature TechCrunch (Today) - Lyft hasn't acquired a bike-sharing startup or gotten a scooter permit yet, but it's already preparing its app for them with a feature codenamed "last mile". Code and screenshots dug...
Alto's Odyssey is coming to Android next month The Verge (Today) - Serene snowboarding game Alto's Odyssey is finally making its way to Android next month. It was released on iOS back in February.Once again, Team Alto will be partnering with Noodlecake...
Google Updates 'Hire' With AI, Schedules Interviews 84% Faster Forbes (Today) - Google's 'Hire' product now saves Recruiters more time to find the right candidates but is it all about Keywords in 2018? Google hopes not and has added new AI products......
Review: Google's new Podcasts app is basic to a fault Mashable (Today) - Google Podcasts$FreeView ProductThe GoodPersonalized recommendations learn what you like • Massive content catalog • Seamless integration with Google AssistantThe BadSubscriptions don't download automatically • No ratings or review systemThe Bottom...
Google quietly stopped users from being able to book Uber rides through its Maps app (GOOGL) Business Insider (Today) - Google Maps has scrapped a feature allowing people to hail Uber rides inside its Google Maps app. Now users have to click through to Uber's app via Google Maps, rather...
Google Podcasts app review TechCrunch (Today) - Apple has essentially owned podcasts since their inception. Hell, even the format's name betrays its close tie to the company's once ubiquitous player. At best, Google has reluctantly embraced the...