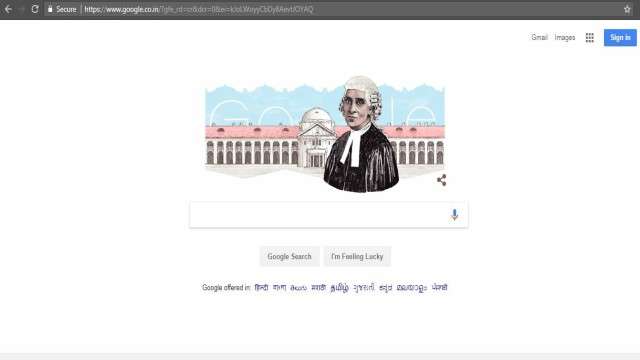 Google on Wednesday paid tribute to India's first female advocate Cornelia Sorabji on her 151st birth anniversary. Apart from this, Sorabji was also the first woman to graduate from the then Bombay University (now University of Mumbai).

Here are 10 things you must know about her

- She was one of nine children of Reverend Sorabji Karsedji, a missionary and his wife, Francina Ford,who had been adopted and raised by a British couple

- Her father was a missionary and Sorabji claims that he was a key figure in convincing Bombay University to...
By: DNA India - Tuesday, 14 November
Related Posts
New In Last Half Hour
Steve and Dustin from 'Stranger Things' answer the internet's most pressing questions Mashable (Today) - One of the most unexpected things to come out Season 2 of Stranger Things was the unlikely partnership between Steve and Dustin. It was like a '80s buddy cop movie...
Older News
The best Google deals of Black Friday 2017: Google Home Mini, Chromecast, Google Wifi The Verge (Today) - Google's Black Friday and Cyber Monday sales this year will be all about the home. So if you're hoping to score a deal on the new Pixel 2 smartphones during...
Google Play launches crazy Black Friday deals on games, music, TV, and books Mashable (Today) - Charge up those Android devices, Google Play's Black Friday deals are out, and they include significant discounts on most Play wares. Google shared the news on its official Play blog on...
Footballer leaves game after scoring two goals to catch the birth of his baby Mashable (Today) - Does two goals and a new baby count as a hattrick?SEE ALSO: Scottish footballer celebrates goal with a dab, adorable ballboy does the sameFootballer Ryan Colclough had a truly extraordinary...
Wigan scorer subbed to dash to son's birth BBC (Today) - The winger scored twice but then rushed to make the birth - in full kit - with 30 minutes to spare....
India arrests Nigerian, Venezuelan with N415.86m cocaine The Punch (Today) - A Nigerian is currently assisting India's Narcotics Control Bureau with his investigation after he was nabbed with cocaine worth Rs 7.5 crore (about N415,864,530.00). Thirty-nine years old Okoro Uka was...
Rukhmabai, one of the first Indian women physicians, gets Google Doodle The Hindu (Today) - If women in modern India can assert their rights of consent, it is due to Rukhmabai....
Video: Guess the song Salman Khan sang at his parent's anniversary  Khaleej Times (Today) - The day also coincided with his sister Arpita's wedding anniversary...
Issue with Pixel 2 bootloader unlocking has been fixed by Google GSMArena.com (Today) - Google has fixed yet another issue with its Pixel 2 smartphone. The issue in question prevented users from unlocking the bootloader as they complained the slider for OEM unlocking was...
'Bogus' advocate charged with fraud All4Women (Yesterday) - A Prieska man, who allegedly posed as an advocate and charged people tens of thousands of rands, has been charged with fraud, police say...The post 'Bogus' advocate charged with fraud...