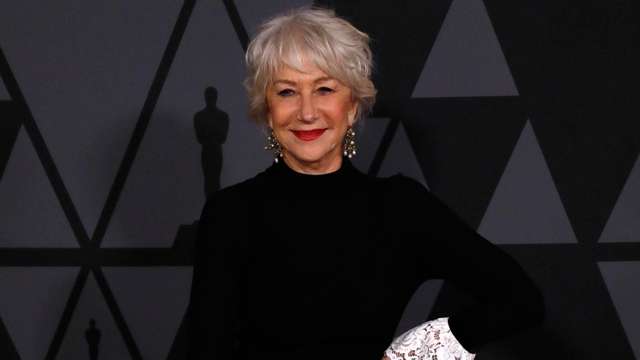 Referring to Donald Trump as a "slightly Shakespearean character" veteran actor Helen Mirren has said she would love to portray the current US President on screen at the drop of a hat.

The 72-year-old actor said she believes she would be "funny" if and when she would get the chance to play the POTUS on celluloid, according to The Hollywood Reporter.

"I'd be so funny as Trump. I love it. I've almost got the hair! I mean what a fascinating character. What an extraordinary character. I mean that's a character isn't it,...
By: DNA India - 7 days ago
Related Posts
New In Last 40 minutes
Trump's latest tweets lashing out at UCLA players are his least presidential yet Mashable (Today) - Donald Trump's latest threats over Twitter are pretty shocking, even by his standards.The U.S. president has lashed out at LaVar Ball, father of one of the three UCLA basketball players...
Older News
New Zealand prime minister Jacinda Ardern denies reports that Donald Trump confused her with Justin Trudeau's wife Firstpost (Yesterday) - Ardern on Monday played down suggestions US President Donald Trump confused her with Canadian leader Justin Trudeau's wife at a summit in Asia last week.The post New Zealand prime minister...
The all new McLaren 720S arrives in Malaysia Free Malaysia Today (Yesterday) - With a waiting list growing in UK and the rest of Europe, a Malaysian car importer has 8 units ready for 8 lucky Malaysia owners....
The Latest: Trump voices doubt about trophy hunting policy Miami Herald (Yesterday) - The Latest on President Donald Trump's tweets on hunting trophies and other topics (all times local): 8:05 p.m. President Donald Trump is expressing more doubts about a new policy allowing...
Win and you're in: Bowl eligibility coming down to the wire Washington Times (Yesterday) - There are 70 FBS teams that are bowl eligible - and four more spots are also accounted for. That's because the winners of these four matchups will join the list...
President Donald Trump says he should have left UCLA players jailed in China Kitchen Daily (Yesterday) - Filed under: News, Politics, White HousePresident Donald Trump tweeted Sunday that he shouldn't have helped orchestrate the release of three college basketball players from a Chinese jail after they were...
Report: Harvey Weinstein had a secret hit list of 91 names to silence sexual harassment claims Kitchen Daily (Yesterday) - Filed under: Entertainment, Celebrity, Celebrity Crime/CourtDisgraced media mogul Harvey Weinstein had a secret hit-list of nearly 100 names for his private investigators to uncover information on sexual misconduct allegations against...
"Cosby Show" actor Earle Hyman dies at 91 Washington Times (Yesterday) - LOS ANGELES (AP) - Earle Hyman, a veteran actor of stage and screen who was widely known for playing Russell Huxtable on "The Cosby Show," has died. Jordan Strohl, a...
Donald Trump 'discomfort' why he's not stumping for Roy Moore, aide says Global News (Yesterday) - Donald Trump doesn't know who to believe about sexual misconduct allegations involving Roy Moore....
Donald Trump Blasts LaVar Ball: I Should Have Left LiAngelo in Jail! TMZ.com (Yesterday) - Donald Trump has a new enemy -- LaVar Ball. POTUS is lashing back at the outspoken basketball dad after LaVar dissed Trump during an ESPN interview a few days ago....