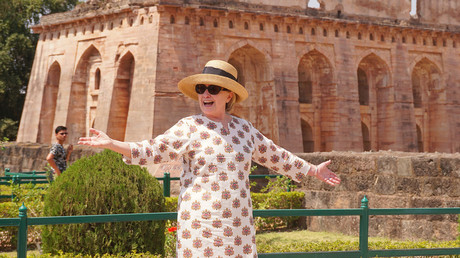 Former presidential candidate Hillary Clinton slipped twice while visiting India this week. Clinton was seen losing her footing as she made her way down stone steps assisted by two aides. Read Full Article at RT.com...
By: RT - Daily news - Tuesday, 13 March
Related Posts
New In Last 40 minutes
How to start YouTube advertising in nine steps The Punch (Today) - Ife Ogunfuwa Online video is huge – 100 hours of video is uploaded to YouTube every minute! And video viewing doesn't seem to be slowing down any time soon. If...
Older News
Chinese commerce minister set to visit India next week The Times of India (Today) - India is looking to host Chinese commerce minister Zhong Shan next week. This will be one of the most significant bilateral engagements in recent times with India likely to use...
100-member Bangladesh Youth Delegation to visit India from Saturday bdnews24.com (Today) - A 100-member Bangladesh Youth Delegation is set to leave for India on Saturday on an eight-day tour at the invitation of the Indian government....
Clintons have 'at least a one-way open marriage', pollster says Daily Mail Online (Today) - Mark Penn, who served as a pollster for Bill Clinton in the 1990s and chief strategist for Hillary's 2008 presidential campaign, says that the couple's open marriage was possibly 'not...
'13 Reasons Why' will include a warning video ahead of Season 2 Mashable (Today) - Netflix has taken extra steps for the second season of its series '13 Reasons Why.' The streaming service is adding crisis resources, a viewing guide and an after-show.The measures come...
Bangladesh youth delegation leaves for India Saturday Prothom Alo (Today) - A 100-member Bangladesh youth delegation will embark on an eight-day visit to different Indian cities like New Delhi, Agra and Mumbai on Saturday, reports UNB.They will see prominent cultural and...
At midday: Wall Street weighed down by trade war worries The Globe and Mail (Today) - TSX slips as oil rally stalls...
Trump, Biden Sparring in Verbal Schoolyard Spat VOA (Today) - U.S. President Donald Trump and former Vice President Joe Biden, both in their 70s, are sparring — at more than arm's length — in a verbal schoolyard fight.During the 2016...
Watch Alexa meet the funniest family on the Internet TechCrunch (Today) - Presented without comment: the cutest Alexa video available on the Internet today featuring Lauren eLL, her Dad, and Grandma. It has it all – laughs, cursing, and Hillary-bashing and Lauren...
Take urgent steps to streamline cross border trade: PMO directs commerce ministry Firstpost (Today) - India ranked 146th in Trading Across Borders component of ease of doing business, out of 190 countries ranked by the World Bank in its latest reportThe post Take urgent steps...