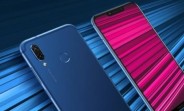 Yesterday EMUI 9.0 was introduced in India and although it will be officially out of the box on October 16 at the Mate 20 launch, other Huawei smartphones already started receiving the Beta. Latest info comes about the Honor Play with its serial number COR-L29, offered mainly in Europe and Middle East. The phone is eligible for the 9.0.0.110 build that brings new Android and UI features.

Honor Play in Midnight Black, Navy Blue and Ultra Violet

The build number is COR-L29C185E303R1P8B115 or COR-L29C432E303R1P8B110, depending on the actual unit. It brings some...
By: GSMArena.com - Friday, 12 October
Related Posts
In the last 2 hours
Yet another Honor Magic 2 teaser video pops up online GSMArena.com (Today) - The Honor Magic 2 is still shrouded in quite a bit of mystery, in the absence of any detailed specs leaks or a TENAA listing. Honor has, however, already made...
Older News
Google to charge Android partners up to US$40 per device for apps Free Malaysia Today (Yesterday) - The new fee goes into effect on Oct. 29 for any new smartphone or tablet models launched in the European Economic Area and running Google's Android operating system....
Google to charge hardware makers up to $40 per device for Android mobile apps Boing Boing BBS (Yesterday) - @xeni wrote:Originally published at: https://boingboing.net/2018/10/19/android-phones.html…Posts: 1Participants: 1Read full topic...
How to view your notification history on Android The Verge (Yesterday) - If you've used Android for quite some time, it's likely you've mistakenly swiped away a notification or two for one reason or another. Maybe you're swiping in a hurry like...
Chrome 70's best new feature is picture-in picture The Next Web (Yesterday) - Picture-in-picture has been available in Android for a while now, allowing you to watch a YouTube or Netflix video while doing other stuff. Now that same feature is coming to...
FilmColumbia opens Friday, offers Hollywood blockbusters, global treats Times Union (Yesterday) - CHATHAM — Chatham is a small town but it is home to Scottish-born actor Brian Cox and the vintage Crandell Theatre, which will honor Cox during its annual FilmColumbia festival....
Last week's best Android games to distract you from your inevitable death The Next Web (Yesterday) - Welcome to our weekly column, in which YouTuber NimbleThor brings you a short list of the best new mobile games for your Android device, released over the past week. We're...
Google app suite costs as much as $40 per phone under new EU Android deal The Verge (Yesterday) - Android manufacturers will have to pay Google a surprisingly high cost in Europe in order to include Google's Play Store and other mobile apps on their devices, according to documents...
Honor 8X sneak peek: A budget-friendly phone with a gorgeous display Firstpost (Yesterday) - Honor has been consistently pushing out both affordable and flagship smartphones for the past few years now. The mid-range Honor phones have topped the charts when it comes to value-for-money...
Football Manager 2019: Beta & full game release date, devices, cost & new features Goal.com (Yesterday) - The Beta version of the next instalment of the popular management simulation game is now available, with the game due for full release on November 2...