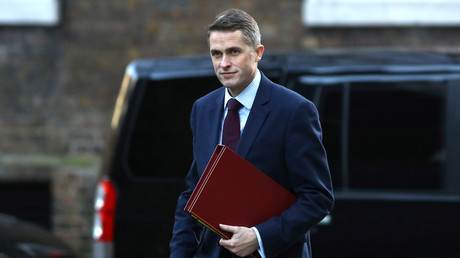 The British Army is reportedly facing cuts that would see it reduced to numbers last seen more than 200 years ago. Three funding plans drawn up by military bigwigs have been described by a Whitehall source as "ugly, ugly, ugly." Read Full Article at RT.com...
By: RT - Daily news - Friday, 12 January
Related Posts
Older News
'Get over yourself' Lily Allen sparks row after calling British army victory 'disgusting' www.dailystar.co.uk (Today) - LILY Allen has sparked a Twitter debate after dismissing a British army victory – where the troops were outnumbered 27 to one....
US firms will now focus on stock buybacks after tax cuts, David Rubenstein says CNBC (Yesterday) - The private equity tycoon emphasized it is far too soon to know what the benefits of the tax cuts will be....
Veteran Dies Getting Wish of Seeing 'Star Wars' Movie U.S. News (Yesterday) - A dying man's wish to see the new "Star Wars" movie is coming true, thanks to local fire departments and medics....
Defence cuts shelved as NSC orders spending review Daily Mail Online (Yesterday) - The Royal Marines, tens of thousands of troops and two amphibious assault ships had all been rumoured to earmarked for cuts in a tight defence budget....
Brexit transition may not be finalised until after March, Hunt tells MPs - Politics live The Guardian (Yesterday) - Rolling coverage of the day's political developments as they happenJohnson reprimanded as May rejects call for urgent NHS spending boostDowning Street lobby briefing on cabinetLunchtime summary 4.13pm GMT This is...
Putin's threat and parallels with 1914 are all too real Daily Mail Online (Yesterday) - General Sir Nick Carter, the head of the British Army, has warned that President Vladimir Putin's nation presents 'the most complex and capable security challenge we have faced since the...
Army selling our land, Delta monarch cries out Vanguard (Yesterday) - EFFURUN- THE  traditional ruler (Ovie) of Uvwie, an Urhobo Kingdom in Delta State, His Majesty, Emmanuel Sideso, Abe I, has called on the Federal Government to direct the Nigerian Army...
Army chief calls for investment to keep up with Russia BBC (2 days ago) - The warning comes amid speculation of potential defence cuts in government....
Russia is biggest threat to UK since cold war, says head of British army - The Guardian Google News U.K. (2 days ago) - The GuardianRussia is biggest threat to UK since cold war, says head of British armyThe GuardianThe chief of the general staff, Gen Sir Nicholas Carter, has described Russia as the...
RUSSIA THREAT: 'Britain CANNOT afford to wait' as Putin strengthens military Express UK (2 days ago) - THE UNITED Kingdom must act quickly or risk being outmuscled by Russia, the head of the British Army has warned today....