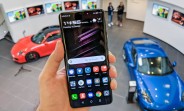 One of four Mate 20 models announced by Huawei at its special event last month is the Mate 20 RS Porsche Design, and this has the honor of being by far the most expensive of the bunch. We've already seen it go up for pre-order in the UK with an expected shipping date of November 16.

Today the company itself has unveiled the official release date for the smartphone in its home market of China. If you've saved up the cash, know that you'll find the Mate 20 RS Porsche Design...
By: GSMArena.com - 6 days ago
Related Posts
New In Last Hour
Honor Magic 2 software update switches to Magic UI 2.0 from EMUI GSMArena.com (Today) - The Honor Magic 2 got official at the end of last month with a mechanical slider design that lets it reach an 84.8% screen-to-body ratio. It's a system that's similar...
In the last 2 hours
Huawei is working on its own voice assistant to rival Amazon Alexa, Google Assistant outside China CNBC (Today) - In China, Huawei has its own voice assistant called Xiaoyi, but it is now looking to make one for the international market. ...
Older News
Would You Spend A Half-Million Dollars To Soup Up Your Porsche? Forbes (Today) - For the right price, Gunther Werks can make your Porsche 993 a track star....
Samsung's foldable Galaxy F rendered in 3D GSMArena.com (Today) - Samsung announced the Infinity Flex Display last week, but not the actual phone that will use it - the best we got was a schematic look at its design. LetsGoDitigal...
JUST IN: Atiku Arrives In Enugu To Discuss Peter Obi With Ohaneze Ndigbo Sahara Reporters (Today) - Atiku Abubakar, presidential candidate of the Peoples Democratic Party (PDP), is currently in Enugu, capital of Enugu State, to perfect the acceptance of Peter Obi, his running mate, by south-east...
Apple Watch Series 4, iPad, Sony And Huawei Win Big At Pocket-lint Gadget Awards Forbes (Today) - Last night's Pocket-lint Awards saw wins for Apple iPad, Apple Watch Series 4 and Huawei P20 Pro....
Honor becomes best selling smartphone brand on Singles' Day in China GSMArena.com (Today) - Last Wednesday India celebrated the festival of light Diwali and many retailers jumped on the festive hype train, launching all kinds of promos. Honor sold over 1 million devices achieving...
Revenge served in pink: Glamorous girl axes Porsche and sprays 'bastard' on it (VIDEO) RT - Daily news (Today) - One doesn't expect a young woman, wearing a pink coat and high heels, to carry an axe. But the one caught on camera in Kiev not only did but used...
Huawei to bring quad-camera flagships, foldable phone and 10x optical zoom in 2019 GSMArena.com (Today) - In an interview, Walter Ji, President of Consumer Business Group in Europe for Huawei, teased some of the innovations that the company is planning on bringing next year. They are...
ASEAN and China tout progress over South China Sea Al Jazeera (Today) - 'Code of conduct' has been under discussion since at least 2002, as China builds structures on disputed outcrops at sea....