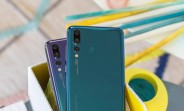 Huawei has announced it has sold 6 million units of its P20 series smartphones worldwide so far. That, the Chinese company says, represents an increase of 81% when compared to their P10 series from last year.

"The incredible reception and sales performance of the HUAWEI P20 Series demonstrate that we understand our markets, and show our commitment to innovation and R&D," said Kevin Ho, President of the company's Handsets Product Line.

"We see our success with the HUAWEI P20 Series as encouragement to drive us to continue to excel. Expect to see...
By: GSMArena.com - 6 days ago
Related Posts
Older News
Huawei P9 might not get the Android 8.0 Oreo update GSMArena.com (Today) - Even though Huawei launched the beta testing of the Android 8.0 Oreo on some of its older devices two months ago, including the Huawei P9 and P9 Plus, someone from...
Delta assembly approves N600m loan for construction of 10,000 housing units Vanguard (Today) - The Delta House of Assembly on Tuesday approved the request by the executive to obtain a revolving N600 million loan from United Bank of Africa for  a 10,000 housing unit...
Huawei P20 Pro update adds automatic super slow motion video function GSMArena.com (Today) - Huawei is rolling out an OTA update for the P20 Pro, version number B131.The major change in this update is that Huawei has added automatic functionality for the super slow...
Apple is reportedly predicting the larger 'iPhone X Plus' will be a runaway hit Mashable (Today) - Apple is expected to release three iPhones in the same style as the iPhone X later this year, and one of them is expected to rise from the pack, literally...
68.5 million people forcibly displaced in 2017: UN bdnews24.com (Today) - The number of people forcibly displaced due to wars, other violence and persecution worldwide reached a new high in 2017 at 68.5 million, 2.9 million more than the year before,...
New Honor 10 update brings EIS and Party Mode GSMArena.com (Today) - Huawei held a massive event in London back in May where the Honor 10 was announced. The device appeared in stores immediately after that and people started buying it. Owners...
Pondering an IPO, cyber security company CrowdStrike raises $200 million at over $3 billion valuation TechCrunch (Today) - CrowdStrike, the developer of a security technology that looks at changes in user behavior on networked devices and uses that information to identify potential cyber threats, has reached a $3...
Apple fined $6.6 million after iPhones and iPads stopped working because they had third-party parts The Verge (Today) - An Australian court has fined Apple $9 million AUD (about $6.6 million USD) for its refusal to fix iPhones and iPads that had previously been repaired with third-party parts. Users...
Apple expects 45 million preorders of the 6.5" OLED iPhone GSMArena.com (Today) - Apple is launching three iPhones in 2018, according to numerous sources and analysts. Two of the devices will have an OLED panel, while the third one will be the most...
Huawei filed a patent for bezel-less smartphone design GSMArena.com (Today) - A patent filed by Huawei back in February just surfaced describing a semi-modular design that allows for even thinner bezels while still maintaining essential features like water and dust resistance...