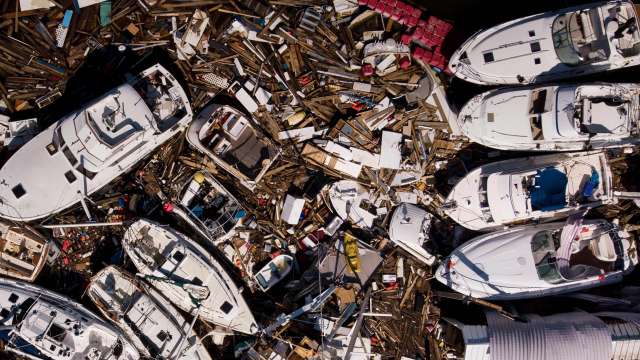 Extremely powerful Hurricane Michael crashed into Florida's northwestern Panhandle coast on Wednesday, flooding towns and ripping up trees with 155 miles per hour(249 kph) winds and the potential for a devastating storm surge.

Michael, which had caught many by surprise with its rapid intensification as it churned north over the Gulf of Mexico, was the most powerful storm ever recorded to hit the Panhandle. It gathered still more strength just before making landfall northwest of the town of Mexico Beach on Wednesday afternoon as a Category 4 hurricane on the five-step...
By: DNA India - 3 days ago
Related Posts
New In Last 5 Minutes
Families search for the missing in the hurricane's aftermath The Kansas City Star (Today) - Joanne Garone Behnke has replayed every possible scenario in her mind a hundred times. Maybe her 79-year-old aunt sought shelter at the sturdy condo nearby that withstood Hurricane Michael's devastating...
In the last 2 hours
F-22 fighters jets at Tyndall Air Force base damaged in Hurricane Michael Washington Times (Today) - President Trump's tour Monday of devastation wrought by Hurricane Michael took him close to Florida's Tyndall Air Force Base, where more than a dozen F-22 Raptor stealth fighter jets were...
How Hurricane Michael crashed Florida's political scene Miami Herald (Today) - Gov. Rick Scott announced on Monday a personal break from campaign events in his bid for the U.S. Senate due to Hurricane Michael, the latest political fallout from the powerful...
In Florida, a slow wait for news on hurricane's death toll Miami Herald (Today) - In Florida, a grim task is unwinding slowly: How many people were killed during Hurricane Michael? The storm that ravaged the Florida Panhandle left incredible destruction, but so far getting...
Donald Trump hears stories of survival in Florida after Hurricane Michael Sun Sentinel (Today) - Michael Rollins shook President Donald Trump's hand Monday at the front door of his hurricane-ravaged home in the Florida Panhandle, saying he decided to ride out the storm because he...
Pets from shelter hit by Hurricane Michael arrive in South Florida Sun Sentinel (Today) - They are tail-wagging Hurricane Michael survivors in need of homes. Four cats and 44 dogs, including more than a dozen puppies, arrived Monday afternoon at the Humane Society of Broward...
Older News
Now a Hurricane Veteran, Trump Inspects Damage From Another Deadly Storm The New York Times (Today) - Visiting communities in Florida and Georgia ravaged by Hurricane Michael, President Trump again declined to acknowledge the threat of climate change....
Trump Arrives in Georgia After Hurricane Michael USA TODAY (Today) - President Donald Trump and the first lady landed in Georgia Monday to learn about damage from Hurricane Michael. During his stop, he talked about climate change and Sen. Elizabeth Warren's...
The Latest: Michael Ruins Large Part of Florida Cotton Crop U.S. News (Today) - Researchers at the University of Florida estimate that Florida's cotton crop has been nearly decimated by Hurricane Michael's rampage....
Trump promises to seek disaster aid as he tours parts of Florida, Georgia devastated by Hurricane Michael Washington Post (Today) - "Nobody's ever seen anything like this. This is really incredible." the president said of the damage....