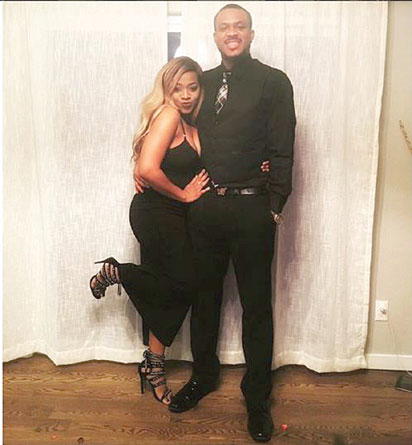 Sultry Nollywood actress and former Sound City presenter, Juliet Mgborukwe, who had her second child recently for hubby, Chima Chukwu, has said she has no fear of flaunting her marriage on the social media, unlike many Nigerian celebrities who live in morbid fear of doing so.

The post I have no fear flaunting my marriage on social media – Juliet Mgborukwe appeared first on Vanguard News....
By: Vanguard - 6 days ago
Related Posts
Older News
Social media is a platform for showing off – Inem Peter Vanguard (Yesterday) - Sexy and in-your-face Akwa Ibom State-born Nollywood actress, Inem Peter is one of the most present queens of the social media. The rear-tower endowed actress in a recent interview with...
Helping a spouse to overcome phone addiction The Punch (Yesterday) - MOTUNRAYO JOEL writes on ways spouses with phone addiction can be helped by their partners to stop the habit Psychologists say phone addiction is a behaviour that can threaten any...
The 25 countries around the world where same-sex marriage is legal Business Insider (Yesterday) - 2017 has been a big year for LGBT rights. Both Malta and Germany legalized same-sex marriage and, this week, Australia made big strides in the same direction....
Are Affairs A Quick-Fix To Save Your Marriage? Vanguard (Yesterday) - According to the author: "Recreational sex outside marriage can be good and healthy." She argues that a fling between two married people cheating on their spouses, with no strings attached,...
Facebook Watch is the ultimate test for social TV The Next Web (Yesterday) - The concept of 'social TV' first came to widespread prominence in 2010 as people embraced sharing their wild and wonderful opinions about TV experiences on social media. That same year,...
Selfie tourism is killing these incredibly cute creatures Mashable (Yesterday) - Warning: this article contains images of animal abuse which some may find distressing.A small furry creature huddles close to a tree branch on the edge of the forest. Its large,...
Marriage will have no effect on my music – Oritsefemi Vanguard (Yesterday) - Ajegunle-born and bred musician, Oritsefemi Majemite Ekele, fondly called 'Musical Taliban', is no specialist at love issues or the marriage institution; but the versatile music-maker sure knows his onions as...
Plaintiffs allege defamatory social media posts came from El Cajon councilman's house San Diego News (2 days ago) - Fake social media accounts criticizing opponents of El Cajon City Councilman Bessmon "Ben" Kalasho were accessed almost 200 times from inside the elected official's home, newly filed court papers allege....
Russian MoD appoints 26yo spokeswoman - and she's already a social media sensation (PHOTOS) RT - Daily news (2 days ago) - Defense minister's new press secretary is apparently a new internet sensation in Russia, as comments on the looks of a 26-year-old former journalist have flooded social media. Read Full Article...
Three Ways Social Media Works For Public Relations Forbes (2 days ago) - Social Media works great for public relations in three ways - accelerating traditional media, responding to crisis and promoting fake news....