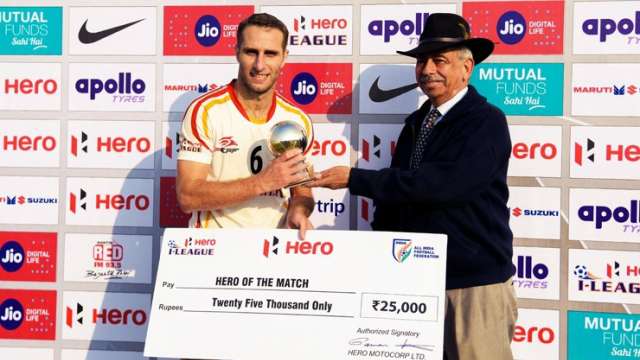 East Bengal handed leaders Minerva Punjab FC their first defeat at home this season to stay alive in the I-League title race with a crucial 1-0 win in Panchkula on Tuesday.

Third-placed East Bengal's win was made possible owing to a thunderous long-range volley from Cavin Lobo on the hour mark at the Tau Devi Lal Stadium. Apart from the early few minutes, East Bengal dominated the game having penetrated Minerva's defence with sharp through balls from the flanks.

Minerva Punjab's goalkeeper Rakshit had to come out of his position numerous times...
By: DNA India - Tuesday, 13 February
Related Posts
Older News
West Bengal govt says it will take action against RSS-run schools if students found training with sticks Firstpost (Today) - The West Bengal government would take "proper measures" if the RSS-run schools were found imparting training to students with sticks in the disguise of educating them, state education minister Partha...
Some use immigration as euphemism for race, says Diane Abbott The Guardian (Today) - The shadow home secretary says a serious debate on immigration needs to 'face up to that'Immigration can be a euphemism for race, and Labour should not be afraid to fundamentally...
PNB fraud case updates: CBI calls around ten Punjab National Bank officials for questioning in Mumbai Firstpost (Today) - The Central Bureau of Investigation (CBI) made its first high-profile arrest in the Rs 11,400 crore alleged Punjab National Bank (PNB) scam on Tuesday, taking into custody Vipul AmbaniThe post...
Mamata Banerjee visits tribal gang rape victim, says West Bengal govt will take care of her Firstpost (Today) - West Bengal chief minister Mamata Banerjee on Wednesday said the state government would take care of the future of the tribal mentally challenged woman gang-raped in South Dinajpur district.The post...
Bangladesh, West Bengal celebrate Mother Language Day on border bdnews24.com (Today) - International Mother Language Day has emerged as a perfect occasion Bangladesh and India's West Bengal to leave behind differences and celebrate Bangla as a language that binds people from both...
Highlights: Amarinder-Trudeau meeting ends, Punjab CM praises Canadian PM - Hindustan Times Google News India (Today) - Hindustan TimesHighlights: Amarinder-Trudeau meeting ends, Punjab CM praises Canadian PMHindustan TimesEarlier, Trudeau, accompanied by his wife and children, offered prayers at the Golden Temple and performed sewa. punjab Updated: Feb...
Messi breaks Chelsea drought to hand Barca 1-1 draw; Australia cruise to tri-series title The Hindu (Today) - Not in the mood to go through the sports news in detail, but can't quite get yourself to do away with it either? Here's what we have to offer: read...
Pakistan Super League to host three home games in third edition, could pave way for full home season in 2019 Firstpost (Today) - Pakistan Super League launches its third edition in Dubai on Thursday, adding a sixth team, more international stars and with hopes that the Twenty20 tournament can be staged entirely on...
No. 2 Michigan St tops Illinois 81-61, seals share of title Washington Times (Yesterday) - EAST LANSING, Mich. (AP) - Miles Bridges scored 19 points, Joshua Langford had 16 and No. 2 Michigan State beat Illinois 81-61 on Tuesday night, sealing a share of the...
Grazette clinches Lodge Road draughts title NationNews Barbados (Yesterday) - Richard Grazette is running away with the Lodge Road Members Draughts Tournament. Despite falling on the knife of Nathaniel "Thani" Grosvenor for his only defeat, the former national champion Grazette......