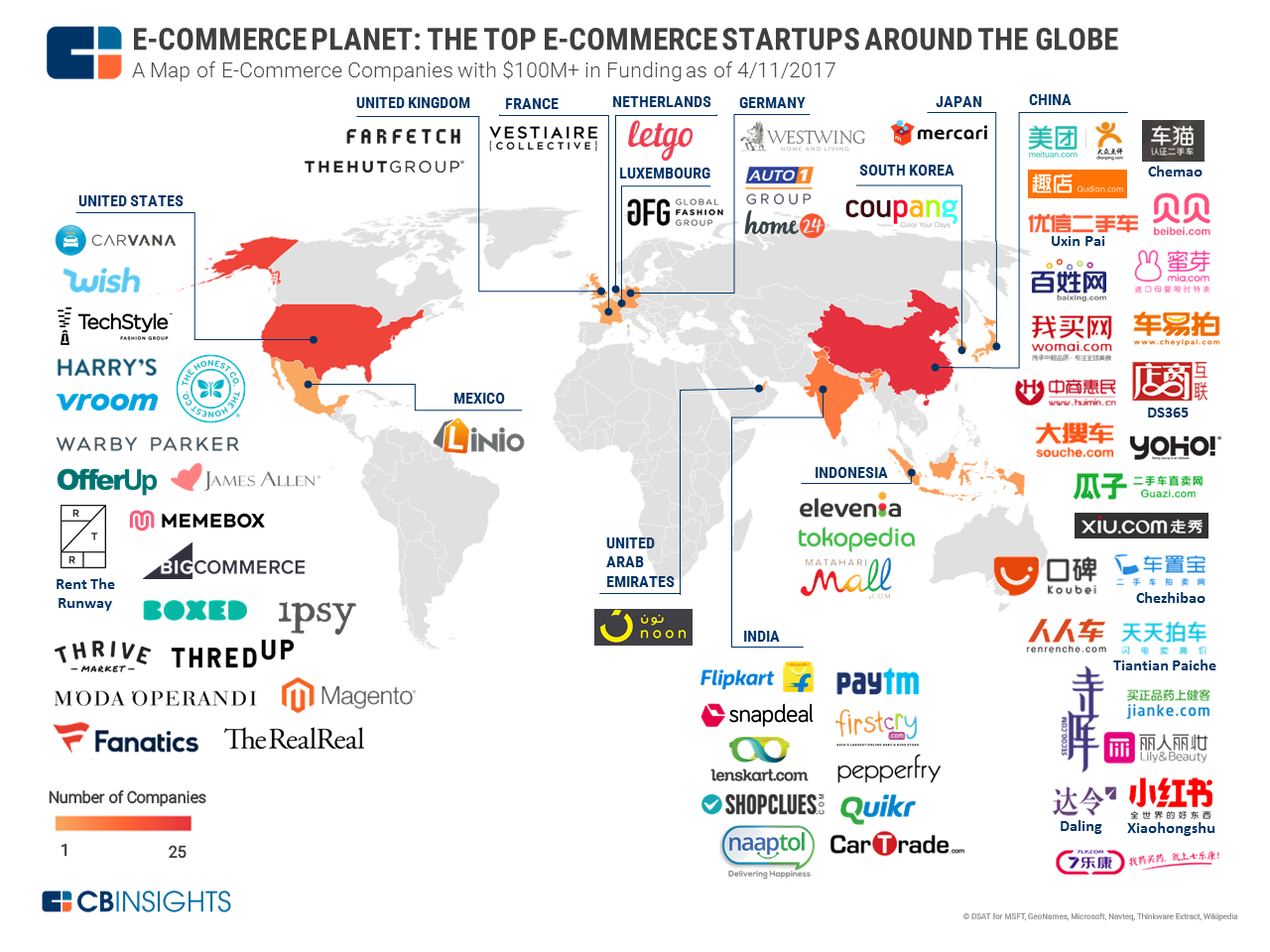 India is at number 3, after the US and China, with the most number of well-funded (more than $100 million) e-commerce companies in the world, according to a report by CB Insights. 

Image Courtesy: CB Insights

With 10 companies that have received more than $100 million (approximately Rs 665.27 crore) in funding, India's share in the top global e-commerce companies stands at 14%. The US contributes 36% to the chunk and China 29%. 

These include Flipkart, Snapdeal, Quickr, Shopclues, CarTrade, Paytm, Pepperfry, Lenskart, Naaptol, and FirstCry. 

However, India trumps the US if the total amount...
By: DNA India - 6 days ago
Related Posts
Older News
India, US meet at UN, talk about anti-corruption reforms taken up by New Delhi Firstpost (Yesterday) - The US Ambassador to the United Nations, Nikki Haley, discussed with her Indian counterpart Syed Akbaruddinthe economic and anti-corruption reforms undertaken by India to spur growthThe post India, US meet...
India objects to Pak raising Kashmir issue at UN forum india.com (Yesterday) - United Nations, Apr 27 (PTI) India has strongly objected to Pakistan raising the Kashmir issue at a UN General Assembly session here, asserting that it is a bilateral matter which...
The Latest: California universal health measure advances The Kansas City Star (Yesterday) - The Latest on California lawmakers' single-payer health care proposal (all times local): 5 p.m. A proposal to eliminate health insurance companies and guarantee government-funded health care for all California residents...
Centre gives forces a 'hit list', wants Naxal morale broken - Times of India Google News India (Yesterday) - Times of IndiaCentre gives forces a 'hit list', wants Naxal morale brokenTimes of IndiaNEW DELHI: Following Monday's ghastly Maoist strike in Sukma that claimed the lives of 25 CRPF personnel,...
Companies urged to innovate The Hindu (Yesterday) - Of the around 960 companies that undertake research and development in India, the number of firms investing over Rs.500 crore on R&D is only 8-10, according to Dean of Research...
EU-funded programme to boost sustainable urban development india.com (Yesterday) - New Delhi, Apr 26 (PTI) A European Union-funded programme, which seeks to strengthen cooperation with Indian cities on sustainable urban development and climate actions, was launched here today. The International...
India well on its way to beating malaria The Times of India (Yesterday) - A combination of concerted anti-malaria campaigns, increased availability of rapid diagnostic tests, use of artemesinin-based combination therapies (ACT) and community mobilsation have helped India contain the spread of malaria. Here...
SoftBank mulls biggest investment in India: To invest $3 bn in 2017, buy stake in Flipkart Firstpost (Yesterday) - Currently, SoftBank, the largest investor in New Delhi-based Snapdeal, is in talks with e-commerce major Flipkart to sell the companyThe post SoftBank mulls biggest investment in India: To invest $3...
Gateway '17: The Road To China Is Through Detroit Forbes (2 days ago) - The top e-commerce meeting in the U.S., perhaps in the world, will take place this June in Detroit. But here's the catch: It is about China e-commerce. All the more...
No inherent objection to free trade agreement with India: US india.com (2 days ago) - Washington, Apr 25 (PTI) US Commerce Secretary Wilbur Ross today said there has been no serious discussions on India-US free trade agreement though the Trump administration has no inherent objection...